'Best Thai Food' lives up to name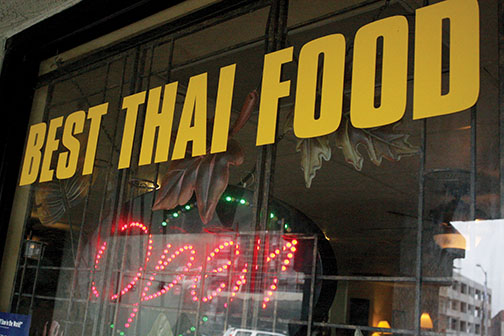 The most important question at the end of a long day of classes and exams at San Diego State is what you're going to eat for dinner. As an Aztec, you have two choices: the same boring on-campus food, or driving five minutes to Best Thai Food Restaurant on El Cajon Boulevard.
Taking a friendly recommendation from another student on campus, a friend and I drove to Best Thai Food on a Monday night to encounter what exactly it had to offer. When walking into the establishment we were greeted with smiles and the very important question of whether we were dining in or placing a to-go order. That's one of the perks about Best Thai Food: If you're short on time you can still enjoy its delicious food in the comfort of your own home. But since we weren't pressed for time, we decided to sit down and enjoy the authentic cultural atmosphere all around us.
After sitting down we decided to stick to the classic dishes, pad thai and thai fried rice. Another great thing about Best Thai Food is that you can choose the exact amount of spice per dish, picking a number ranging from zero to two. The pad thai was ordered with a level one rating, and the thai fried rice, a rating of zero. It's always better to order a little less spice than you think you can handle, because you can always add more to the dish later. When the entrees were delivered to our table, a plate of spices accompanied them, making the entree truly customizable.
Another bonus at Best Thai Food is the portion size. Dishes are not only massive, but visually pleasing as well. My friend and I shared both dishes that night and still had some left over to take home for lunch the following day.
Perhaps one of the greatest things about Best Thai Food is how affordable it is. Each entree was below $10, and that's pretty affordable for a college budget. Best Thai Food is perfect for any occasion, and just the right place to order some take-out. Best Thai Food really lives up to its name.
Photos by Senior Staff Photographer Jenna Mackey.