Nelson Mandela celebrated at cultural event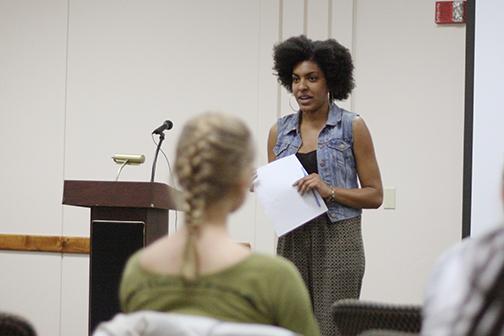 by Staff
February 21, 2014
On Feb. 18, San Diego State Love Library and the Association of Africana Studies Majors and Minors held an event as part of the cultural events series for Black History Month.
The event, "An Evening Honoring Nelson Mandela," featured a performance by South African dancer, folk singer and percussionist Norma Burkhardt, as well as a screening of the documentary "Amandla: A Revolution in Four-Part Harmony."
Although the library is holding a series of events for Black History Month, the Nelson Mandela event was the only one to be in partnership with a student organization. 
The documentary, which featured interviews and archived footage of South African musicians, poets and activists tied the evening together.
The screening was followed by a performance of traditional song and dance by Burkhardt, along with a discussion. Burkhardt, who was born in Soweto, South Africa, spoke of what it was like to grow up in Soweto in the 70s.
The performers also explained the present-day impact of traditional South African music.
"The only way we connect with home is through our music," Burkhardt's accompanist Simangele Tshabalala said at the event. "As you can see from the documentary, we sing when we're happy and when we're sad."
The event allowed attendees a closer look at South African culture.
"There are other ways to teach beside lectures and reading textbooks," library marketing and communications specialist Roberta Niederjohn said. "Experiencing the culture really helps to understand the history of another country."
AASMM president Shellie Stamps said Black History month is about more than just celebrating African-American history.
"It's important to celebrate Black History Month and have events like these to learn about global experiences, compassion, and how we are all connected," Stamps said. "We can all learn from each others experiences."
Photo by Jenna Mackey, senior staff photographer