SDSU reopens renovated Storm and Nasatir halls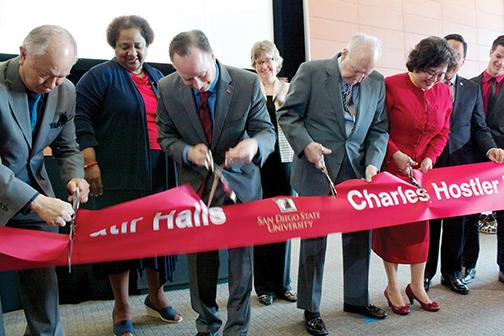 On Friday, Feb. 21, hundreds gathered in the renovated Storm and Nasatir halls for the buildings' official opening ceremony and dedication.
"We're thrilled with the support from the state and from our donors that allowed us to build this extraordinary facility that will serve our students, our faculty and staff for decades to come," San Diego State President Elliot Hirshman said.
The buildings' renovations began in June 2012 and were completed shortly before this semester's classes began on Jan. 22.
The $73 million project includes new classrooms with upgraded technology and the addition of the Charles Hostler Hall and the J. Keith Behner and Catherine M. Stiefel Auditorium.
The building also features several sustainable upgrades such as a large solar panel and new energy-saving paint
"This building is accessible, it's sustainable and it has state-of-the art technology so it maximizes the learning opportunities for all of our students and the research and teaching opportunities for our faculty and staff," Hirshman said.
The majority of the ceremony was held in the Charles Hostler Hall. The large lecture hall seats 435 people and was named after U.S. Ambassador Charles W. Hostler.
"We could not have chosen a better man to name the building after," College of Arts and Letters Dean Paul Wong said.
Hostler, a former U.S. Air Force colonel, has served as the U.S. Ambassador to Bahrain and Middle East foreign policy advisor throughout his more than 70 years of service to the U.S.
The College of Arts and Letters named the lecture hall after Hostler following a $3 million donation in support of the college's global studies program. Hostler's past donations to the College of Arts and Letters have supported many international programs such as the Charles W. Hostler Institute on World Affairs, Wong said.
"This is a wonderful building," California Assembly Member Shirley Weber said during the opening ceremony. "Any new building will always inspire students to look to the future to realize that their campus is special."
Weber, a longtime professor at SDSU and founding member of the Africana Studies department, said the new hall's naming was fitting because of the importance of international programs, especially within the departments housed in Storm and Nasatir halls.
"The fact that Ambassador Hostler had an interest in international affairs is really important because this campus has worked to develop strong international programs and study abroad programs," Weber said.
The halls were originally constructed in 1957, and in 1986, the buildings were named after SDSU professors Alvena Storm and Abraham P. Nasatir.
Photo by Chelsea Massey, staff photographer
Staff writer Michelle Monroy also contributed to this report.