Dakota Ringer shows promise as performer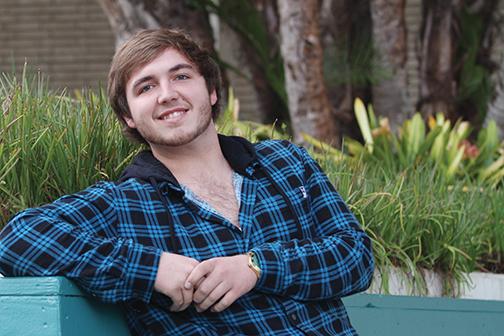 As a Theater sophomore at San Diego State, Dakota Ringer has a true passion for performing whether it is on stage, playing the drums or singing his heart out. All his talents and skills make him a triple threat in the world of performing arts.  At just 5 years old, Ringer started his acting career performing in shows for his church and singing in the choir. It was during this period of time that he was determining whether this was the career path he wanted to follow.
"I did church shows till I was about 10 and started to get bigger roles each time," Ringer said. I just started falling in love with it."
Ringer was also heavy into sports as well. The passions, however, were hard to manage at the same time. Often times he had to choose whether to attend practice or try out for an audition. Eventually, when high school came around Ringer decided to fully commit to acting and attended a public arts conservatory called Coronado School of the Arts. It was during his high school years that Ringer enhanced his skills as a performer.
"Thirty-five-plus shows later, here I am. It's been a long road up to this point, but it's gotten me to where I am today," Ringer said. I've loved every moment and I hope it's something I'm able to pursue either on film or on stage."
Ringer has continued to dedicate a lot of time and effort into his acting career. Currently, he is pursuing a degree in theatre with an emphasis in performance, and has loved his experience so far at SDSU. He has been involved with several plays on campus including "Peter Pan & Wendy," where he was the drummer and percussionist, as well as a role in "Hay Fever." This semester, he is looking forward to being featured in "Pal Joey," "Jungle Book" and "The Last Days of Judas Iscariot."
Opening this Friday, "Pal Joey" is a musical set in the 1940s. Ringer plays a character named Deputy Commissioner O'Brian and is excited to tell us about his role.
"I'm basically playing a Chicago beat cop who follows a gangster who is scamming people for money," Ringer said.
When asked what challenges he faced while playing his character, Ringer explained thatn"the hardest part was to get the language of the time period make sense. It is so different from the way we talk in the 21st century; our humor is just not the same as it was back then," Ringer mentioned.
In the future Ringer hopes to continue to perform either on stage or in front of the camera. Most of his life he has spent doing musical theater, which is something he has grown comfortable with.
"One of my all time dream roles would be to play Shrek in "Shrek the Musical," Ringer said. "The songs are just fantastic."
Aztecs can watch Dakota Ringer light up the stage once "Pal Joey" opens this Friday.
Also read: Romance and lust trump in musical
Photo by Kristian Carreon, staff photographer