The Book of Muema adds unexpected chapter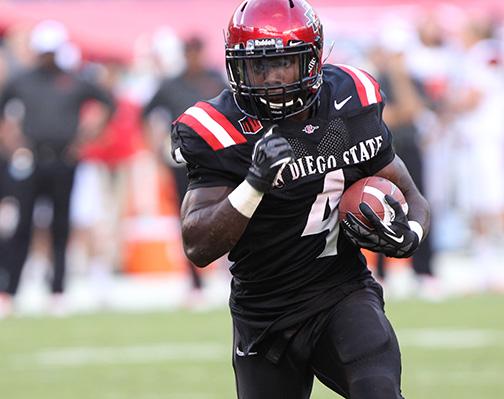 After playing against former San Diego State running back Adam Muema in high school and seeing him run for 260 yards and five touchdowns in one game, I quickly realized his name would be in the headlines for many years to come.
Muema doesn't just play football games—he takes control of them.  In his final game as an Aztec, he rushed for 229 yards, had three touchdowns and was named MVP of the Famous Idaho Potato Bowl.
His successes in high school and college led Muema to declare for this year's upcoming NFL draft after only his junior season.  This decision surprised many Aztec fans, myself included, considering ESPN's Scouts Inc. only ranked him the 24th-best running back in this year's draft.  This means Muema would have to make a name for himself at the NFL Scouting Combine to have a decent chance to get drafted.
However, he made a name for himself in a way no one could ever see coming. In one of the most bizarre stories in Aztec history, Muema's draft stock took a major hit on Sunday, Feb. 23 when he left the NFL Scouting Combine citing "religious reasons."
Muema said he was "following God" when he left the combine early, and that God told him if he did not participate, the reigning Super Bowl champion Seattle Seahawks would draft him.  According to the U-T San Diego, Muema was given a fourth- to seventh-round draft grade.  However, his decision not to run, lift or jump at the combine might cause him to not be drafted at all.
Many might see this story and think it's a joke. Others may think he's just cracking under the pressure the combine puts on potential draft hopefuls. Conversely, there are some people who see his act as a passionate leap of faith to follow God.  I, on the other hand, am somewhere stuck in between. I'm shocked that Muema would make such a radical decision that will definitely affect how many NFL teams look at him.  But I also have to respect his willingness to follow what he believes in.
Muema is so confident in his self-proclaimed prophecy that he has even updated his Twitter biography @So­_Lucrative to say,  "|God F1rst|Seahawks #8|." He is so sure about himself that he already feels he belongs on the team. Muema has stated that playing for the Seahawks is his dream team and that he "cant go wrong with God" by following the path to the team.
Fortunately for Muema, he picked a team with a coach, Pete Carroll, known to take risks in the NFL draft. For example, players such as Richard Sherman, Bruce Irvin and Russell Wilson were all risky draft choices that eventually panned out in the NFL.
It's hard to believe, but in the days following Muema's abrupt departure from the combine this story got even stranger.
After Monday's decision to follow God, Muema disappeared for three days straight and remained out of contact with everyone. He later resurfaced to the world on Friday, Feb. 28.  You might ask what he was doing for those three days. Apparently, God had more answers for him.  According to Muema, God told him to stay in the airport and not do anything but wait. So that's what he did for three straight days.
Corey Nelson, a player training for the draft with Muema, told the U-T San Diego that he picked up Muema from the airport on Thursday when no one else knew where he was.  He also noted Muema was still wearing the same workout uniform provided to him at the combine.
Lucky enough for Muema, the scouting combine isn't the only chance he will have to impress NFL scouts.  He will have a chance next month at SDSU's Pro Day to show that he is draft-worthy.
Many people might think Muema doesn't know what he's doing when making decisions for his future.  However, didn't many people question Noah for building his ark? Muema may just know something that the rest of the world can't comprehend right now.
Photo by Monica Linzmeier, Photo Editor