No.13 Men's basketball captures 41st straight win against California teams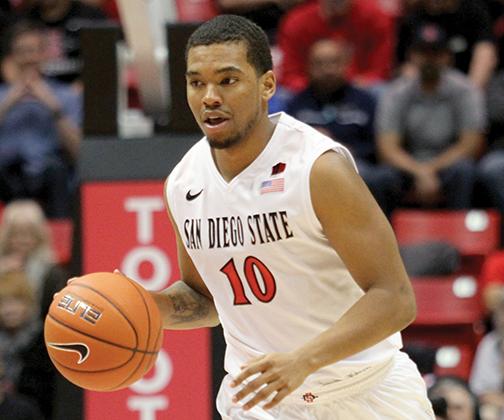 They really might be the kings of California.
In a game that was thought to be another road test for the Associated Press-ranked No. 13, San Diego State made winning look easy on Saturday as they defeated California State University, Fresno 82-67.
With this victory, SDSU extended its winning streak to 41 games against teams from California. If that isn't enough, it's also the longest active winning streak for any one team against any one state in the country since the 1996-97 season.
[quote]"This is the way you have to play if you want to win a conference championship," head coach Steve Fisher said to reporters in Fresno. "We have to keep digging and say this is the way we want to play when we go to Vegas on Wednesday. It feels good today."[/quote]
After scoring only 44 points last weekend in a loss to the University of New Mexico, the Aztecs clearly were a different team playing in California, putting up 90 points against San Jose State University last Tuesday and 82 points against Fresno State on Saturday.
The Bulldogs hung around in the first half despite SDSU shooting a hot 61.9 percent from the field. As the Aztecs led 37-32 with 11 seconds left to play in the first period, Fresno State redshirt sophomore Cezar Guerrero nailed a 3-point shot to cut SDSU's lead to 37-35. Immediately after, senior guard Xavier Thames came dribbling down the floor and answered with a 3-point shot of his own as time expired to give the Aztecs a 40-35 advantage at the half.
[quote]"That was a huge basket," Fisher said regarding Thames' shot to end the half. "It was a huge basket not only to shut the crowd down, but it gave us a good feeling about ourselves when we ran into the locker room."[/quote]
SDSU looked even better in the second half, outscoring the Bulldogs 42-32. The hot shooting continued for the Aztecs, finishing the game shooting 60 percent as a team, as they connected on a total of nine 3-point shots. Thames finished with a team high 22 points and six rebounds, while junior guard Aqeel Quinn finished with 17 points, including a team-high four three-pointers made.
With ten Top 25 teams losing on Saturday, you can perhaps expect SDSU to jump back ahead a few spots in the national rankings after winning two games this week.
The Aztecs (25-3, 14-2) will travel next to the University of Nevada, Las Vegas to take on the Rebels (19-10, 10-6) at 8:05 p.m. on March 5 at the Thomas & Mack Center. In their last meeting on Jan. 18, SDSU defeated UNLV 63-52 at Viejas Arena. The Aztecs are seeking their 26th win of the season, and the game will be televised live on CBS Sports Network.
Photo by Kristian Carreon, Staff Photographer