Laugh and Rock Out Loud with Tacocat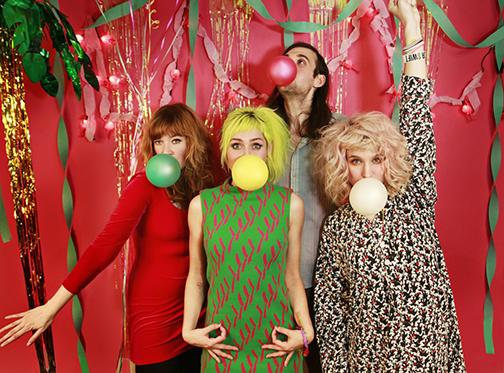 Merriment and wit is the business for Seattle band Tacocat, and the cheery name is only the beginning. The band consists of drummer Lelah Maupin, guitarist Eric Randall, bassist Bree McKenna and vocalist Emily Nokes. With a new album out, Tacocat is bringing their cheery rock music to San Diego when the band performs at Soda Bar on Monday, March 10.
Tacocat's fun-loving spirit is in the band's new album titled "NVM," a play on the Internet abbreviation for "nevermind." In the album, Tacocat plays a short and sweet mix of bubblegum pop and '90s "whatever" cool. It's a bite-sized treat to listen to with melodies sweet as the candy-filled cover and catchy choruses made for sing-alongs.
The lyrics underneath make "NVM" worth returning to. Lead single "Crimson Wave" shows both the musical and lyrical pleasures of Tacocat. In the song, a grumpy Nokes wants to ditch work and stay at home. It doesn't take much to understand that Nokes suffers from the pains of menstruation. "Girls are surfing the wave," she sings, giving a wink to her female fans.
In another song, "Hey Girl," Tacocat stands up for its female fans and fights back against harassing guys. The song came about from sheer frustration, Nokes said. According to her, the inspiration came from McKenna being upset about random guys telling her to smile, while Nokes was verbally harassed as she walked through a construction site on her way to work.
Female-positive ideals are a driving force of Tacocat's music, and the band's preferred way of spreading its messages comes back to fun and humor.
"Part of it is that we want to be able to have a sense of humor about it," Nokes said. "Yelling at people or being angry this day and age doesn't have the same effect as to straight up make fun of it."
Tacocat reminds that musicians can joke around while trying to make a serious statement with rock music us. When checking out Tacocat performing live at Soda Bar, come for the music and stay for the laughter.
Also read: Casbah spoils metal fans with stunning lineup
Photo by Kelly O. Courtesy of Hardly Art