Residence halls want to help boost positive behavior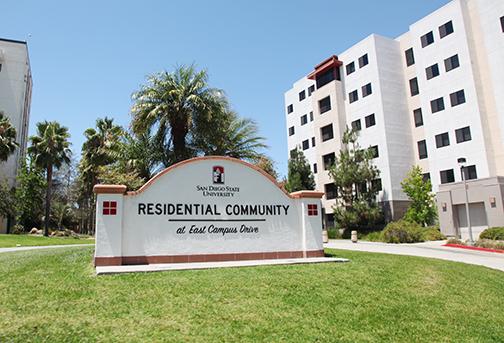 The San Diego State Residence halls are implementing a new program to help boost positive behavior among residents.
The Positive Community Rewards program gives Aztecs who live in the residence halls incentives to perform good deeds.
"They help build community because they help reward good behavior with like a raffle ticket, and the tickets are for things like a gift card to the Bookstore, and other exciting things like iPods, and things like that," International Security and Conflict Resolution sophomore and Cuicacalli resident advisor Delia Cannon  said.
According to Cannon, who coordinates the PCR Program within Cuicacalli, both resident advisors and desk assistants can give out community rewards. While past prizes have included iPod shuffles, iTunes gift cards and SDSU Bookstore gift cards, the prizes for this year have yet to be decided.
Although the program has been in place for the past five years, residence halls are placing a greater emphasis on positive community rewards this semester.
"It wasn't as big of a deal last semester. There were a lot of first-year R.A.s in Cuic, and it didn't really take off as much," Cannon said. "It's important it's a bigger thing this semester."
Although a good deed is subjective, posters for the program in residence halls give a few examples of acts of kindness; including studying in common rooms, holding skateboards, and helping other residents carry things in.
"It's things like helping your roommate move in or out, or helping bring in groceries," Cannon said. "Helping in a way you don't really have to, but you really stepped up."
However, some residents are dubious of the program's success.
"I don't think this program will work. I don't think is advertised very well," Accounting freshman and Cuicacalli resident Tori Itatani said. "I think it's a good idea, if it would be conducted better."
Although the program is being advertised on posters throughout the dorms as well as on bulletin boards, many residents remain unaware about the program.
"I did not know about this program previously," speech language and hearing science freshman Meghan Hardiman and Maya resident said. "I think it's just hard to do because it's a bunch of strangers living together."
Cannon hopes community engagement will help promote the program.
"I think if anyone really looked at what PCRs were, and if everyone was a little bit more involved in it and reported when they saw something good, it would help grow a lot more," Cannon said.
Photo by Monica Linzmeier, Photo Editor