Mouth-watering meat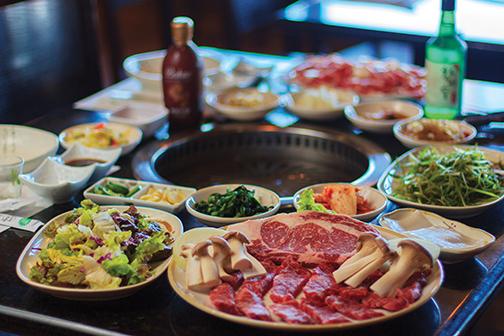 One thing is for sure when it comes to college kids: we have a craving for good food and we want a lot of it. There's no better place than Manna Korean BBQ to satisfy those needs. This restaurant is perfect for carnivorous college students. Don't fret about stuffing your face, just think about all the protein you'll be getting.
Manna Korean BBQ offers a variety of Korean dishes, but what they're famous for is their all-you-can-eat buffets. They have two types of all-you-can-eat meals. Their A1 AYCE meal offers a larger selection of premium cut meats, including seafood and prime rib, for $24.95. But for only $19.50, the A2 meal still gives you a wide variety of meat to satisfy your Korean barbecue cravings. The deal is you can order as much as you want for two hours. From short ribs and bulgogi to brisket and pork belly, Manna Korean BBQ is a meat-lover's paradise. Go on an empty stomach because the meat will keep coming. You do, however, get charged for any uneaten meat you order, so make sure to eat it all. The all-you-can-eat dinners also come with a handful of side dishes to help fill you up.
For those who have never been to a Korean barbecue restaurant before, you sit at a table with a grill in the middle and cook your own food. That might sound intimidating, but it's not that hard to cook meat, so don't stress too much. Also, if you do plan on going, prepare to have your clothes smell like smoke and meat. I suggest not wearing anything too nice and plan to do laundry the next day, and definitely take a shower afterward.
This is the best place to go with a large group of friends to pig out. I would say the only downside to Manna Korean BBQ is the wait time. It doesn't take reservations and is very busy on weekends so expect to wait up to an hour or more. There's also limited seating for big parties. But scarfing down plates of delicious meat, makes it worth the wait.
Manna Korean BBQ is one of my personal favorite places to go with my friends. We love meat, we love eating, we love Manna Korean BBQ.
Photos by Kevin Serrano.