Student art stuns at showcase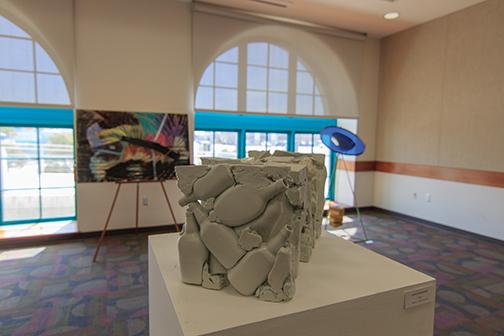 March 6 was a big day for Arts Alive SDSU. In celebration of the grand opening of the Conrad Preby's Aztec Student Union, the committee, consisting of students, professors, and faculty, set up workshops, exhibits, and performances to explore arts and tradition.
"We're trying to increase everyday exposure that San Diego State students have with art," tourism and hospitality management senior Charlotte Hubble said. Hubble is a part of the logistics team of Arts Alive SDSU, a committee that works toward spreading and bringing awareness of fine arts on campus.
"Around 1,200 people saw different art forms from SDSU students," College of  Professional Studies and Fine Arts Director of Community Engagement and Innovative Programs Randy Reinholz said. "What a wonderful day it was for Arts Alive SDSU."
"Showcasing the power of arts at the Conrad Preby's Aztec Student Union means a lot to the students studying arts," Interim Director of the School of Art, Design and Art History Kotaro Nakamura said.
The art that was showcased was a preview of the artwork that would be for sale at the Student Award Exhibition on March 27. This student art exhibition will be the 16th annual juried exhibition of upper division and graduate student artwork. The exhibition began in 1999 to demonstrate the university's support of artistic excellence and diversity in student artwork.
Professors are asked to choose the best of their art and design students to submit artwork for the exhibition. There are many types of artwork submitted for the exhibition such as paintings, graphic design, ceramics, jewelry, sculptures and furniture.
"People love technology and well-designed devices have heavy human interface elements such as how it feels in your hand, looks, navigation sequence, and motion," Nakamura said. "All of these are products of visual literacy education through arts experience. The student projects selected for the exhibit convey complex emotion in effective ways."
The submissions are judged by a panel of art and design faculty, and the chosen pieces of art are showcased in the Everett Gee Jackson and Flor y Canto galleries in Art South from March 17-27. March 27 is the awards ceremony where the president, PSFA dean, College of Arts and Letters dean and other faculty members receive purchasing awards of $1,000. The SDSU Art Council and jurors will also be giving cash awards of up to $500. Outsiders and students are also able to purchase some of the artwork if they wish.
Not many people know about the Student Award Exhibition, which is why Arts Alive SDSU jumped at the opportunity to bring awareness and showcase student talent during the grand opening week.
[quote]"It is good to experience the power of arts in the everyday context," Nakamura said.[/quote]
Photos by Kevin Serrano, staff photographer.