From top to bottom: SDSU's commitment to sustainability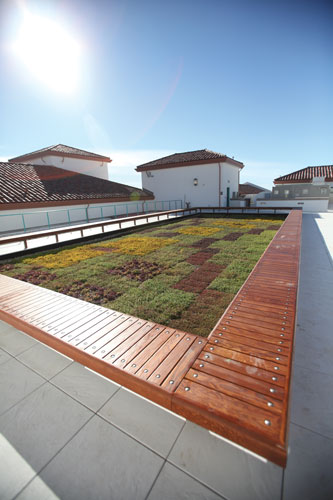 The new Conrad Prebys Aztec Student Union at San Diego State may appear to have been built exclusively for the pleasures of the students, but plans for this building went into action with what some would consider to be a much more important benefactor in mind: Mother Nature.
The building is the first in the California State University system and one of the first university buildings in the nation to receive a Leadership in Energy & Environmental Design Platinum certification from the U.S. Green Building Council.
Such an impressive feat comes from the determination of the students and faculty who have worked on the student union's rebuilding process since 2008. Associated Students Vice President of External Relations Javier Gomez explained that when the financial crisis hit, plans to renovate the old student union could have been put at a standstill. However, A.S. and school officials agreed to instead view it as an opportunity to invest in the university's future by focusing on cost-cutting and energy-efficient features.
"It was really just listening to students and the student voices that really wanted sustainability to be a big feature in the union," Gomez said. "We wanted to make sure that we weren't hurting the environment while we were making our union for the students."
The LEED certification is known as an "internationally recognized mark of excellence (that) provides building owners and operators with a framework for identifying and implementing practical and measurable green building design, construction, operations and maintenance solutions," according to the U.S. Green Building Council's website.
Buildings up for consideration of LEED certification are rated on a points scale and can achieve a ranking of "certified," "silver," "gold" or "platinum."
To receive a ranking, buildings must first satisfy minimum prerequisites and are then evaluated in categories such as sustainable sites, water efficiency, energy and atmosphere, materials & resources, and indoor environmental quality, among others.  To reach a platinum rating, buildings must earn 80 or more points—a feat very few structures attain.
Some of the aspects that went into creating sustainable construction for SDSU began with the demolition of the previous student union. Approximately 80 percent of the original Aztec Center was recycled into building materials for the replacement, according to Gomez.
"They literally took the old union, since we had concrete, and ground that down and used that in this union," Gomez said.
Of the remaining materials, 15 percent was sold, given away or repurposed elsewhere in the community. For example, old seating booths from the Aztec Center were given or sold to local businesses along with other furniture, leaving only 5 percent of the entire project as wasted materials, Gomez said.
The $104 million project took four years to complete and was more expensive and time-consuming because of the desire to include sustainable features. However, the larger price tag will now ideally result in significantly reduced costs in electricity and heating throughout the upcoming years. Gomez estimates the school could save anywhere between $4 and $8 million during the next three years because of the more efficient features. The building also uses approximately 40 percent less energy than most buildings of its size.
This payoff has already begun by impressing donors with Aztecs' dedication to sustainability.
"One of the things that we see as a really big factor in the donation that Conrad (Prebys) made toward the student union was the fact that students took the initiative to make it a LEED Platinum union, to invest in themselves and to invest into sustainability and to the future," Gomez said. "So that $20 million, I can't say for sure but I just don't think it would have been that amount if this wasn't a LEED Platinum union."
Specific sustainable features of the building include a nontraditional method of temperature control with its radiant flooring system. Water pipes run under the floorboards with hot or cool water depending on the temperature of the room immediately above it. This system currently only circulated through the west side of the building, affecting Starbucks, Student Life & Leadership and office spaces.
Other sustainable aspects include a rooftop garden used to reduce the overall heat of the building, motion sensor lights, automatic window shades, solar panels and an underground storage tank to collect rainwater.
SDSU's pioneering attitude toward sustainable renovation will likely continue into other on-campus buildings. The new Storm and Nasatir halls are LEED Silver certification equivalent and the Mission Bay Aquatic Center recently received LEED Platinum certification for its operations.
As SDSU continues to update the campus for years to come, the eco-friendly theme will remain an integral part of Aztec leadership.
"We're 'LEEDing' the way, as we like to say, with the LEED, and it's really exciting because we're investing in the future," Gomez said. "I'm just really proud that SDSU has that big picture and that mind-set … We're looking into the future and not just the now."
Photo by Jenna Mackey, senior staff photographer