Library holds student research competition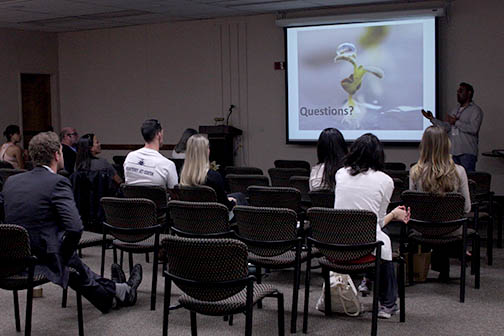 San Diego State held the seventh annual Student Research Symposium on March 7 and 8.   The event allowed students to present research projects and to compete for various awards, including a spot in the California State University system Student Research competition.
According to SRS Chair Keven Jeffery, about 50 awards were given, with monetary awards ranging from $150 to $500 dollars. The top prizes were the President's Awards, in which ten recipients received $500 as well as an invitation to represent SDSU at the CSU Student Research Competition held in May. Applications for the symposium opened last November.
"We've been fortunate to accept all applicants," Jeffery said.
Categories were divided by topic and grade level. This year, 375 students presented topics that ranged from computational modeling in biology to modern British culture, and were presented either orally or visually.
"It's a celebration of scholarly research," Jeffery said.
Cell and molecular biology doctoral student and SRS judge Brandon Kim said the symposium was a good way for students to gain experience explaining their work.
"I think it is an incredible opportunity first of all, to practice presenting because if you stick around scientific fields or any other fields, you're going to have to give talks," Kim said. "Secondly, it's a competition, and it's nice to be rewarded to research you work hard on every other day, so if you're lucky enough to be an award recipient, it's really rewarding to yourself too, because you realize the stuff that you're doing, other people care about too."
Kim was one of the recipients of one of last year's President's Awards and went on to finish first place in the CSU Student Research competition for his research of Group B Streptococcus.
In an effort to make the event more inclusive to less research-focused majors, the SRS featured a Creative and Performing Arts Pilot this year.
"We're trying to open up to be more flexible so more students feel comfortable presenting," Jeffery said. On the second day of the symposium ten creative arts presentations were given, including dance, music, and stage design.
According to Jeffery, plans for the following year's symposium begin at the close of this year's program.
"We send out a survey of what can be improved," he said. "We've already booked space next year at the new Student Union."
Photo by Jordan Owen, Senior Staff Photographer