Tech beat: Aztecs plan solar-powered winery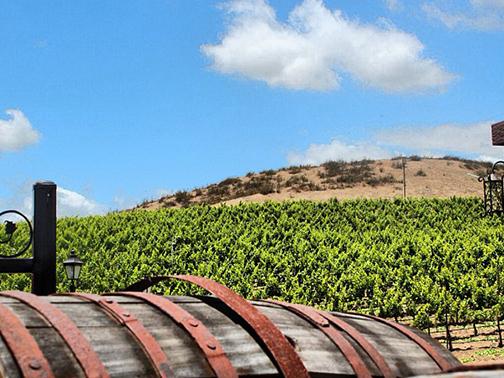 There is a growing appreciation for renewable energy and environmentally friendly practices from businesses. Following this trend, San Diego State environmental science seniors Eddie Hernandez and Tyler Whitfield are helping a San Diego-based winery, Europa Village, plan the installation of on-site solar panels.
The installation of solar panels at Europa Village presented some unique challenges, the students said.  The winery wanted to retain the aesthetics of the grounds, meaning that solar panels wouldn't be on roofs or in open fields.  Whitfield and Hernandez recommended the solar panels should be placed on access roads between the rows of the grapevines.
Associate Director for the Environmental Sciences Program Matt Rahn was the faculty adviser for the student's research project.
"I was thrilled that Eddie and Tyler chose this project for their senior thesis," Rahn said.  "It represents a unique opportunity to advance the sustainability and design features of a key Southern California industry."
One of the goals of the project for the winery is to get a Leadership in Energy and Environmental Design certificate similar to that of the Conrad Prebys Aztec Student Union. Obtaining a LEED certificate is based on a point system, which allows buildings to be classified as Certified, Silver, Gold, or Platinum.
After the installation of the panels, the winery will be awarded more points, which will help it work toward its goal of attaining certification, Hernandez said. He said LEED is part of a movement toward a greener future.
"It's a program to push designers to design projects that are more environmentally friendly," Hernandz said.
Rahn said the project could be a groundbreaking part of work in the environmental science field.
"As proposed, their project can become a foundational element in advancing wineries and vineyards, serving as a model for sustainable agriculture and planning," Rahn said.  "I know that the project partner, Europa Village, is extremely interested in their recommendations and how this might help inform their future development plans."
Photo courtesy of Europa Village Winery