Aztec basks in naval success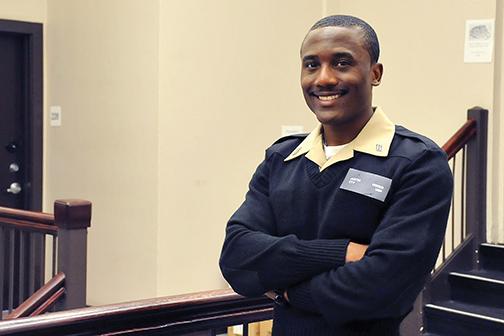 U.S. Navy cryptologic technician and San Diego State alumnus Justin Woods knows what it's like to be a college student trying to find life's calling.  As a San Diego native raised in a Navy family, Woods arrived at SDSU his freshman year enrolled as an aerospace engineering student with no intention of carrying on his family legacy.
He came to realize how uninterested he was in his aerospace courses and chose to change his academic direction. By the time he graduated with a bachelor's degree in 2012, Woods had switched to a major in public administration, as well as having let go of a media marketing business he had started with some friends while in school.  He then came upon the realization of his true calling: a career in politics.  In an effort to set off on a path toward this goal, Woods found that joining the Navy might not be such a bad idea after all.
After an initial attempt to start his Navy career as an officer did not come to fruition, Woods made the decision to enlist. He attended boot camp at Naval Station Great Lakes in Illinois, and then Corry Station Naval Technical Training Center in Florida to be trained as a cryptologic technician. It was there Woods met the man that remains his mentor to this day, Leading Chief Petty Officer Kevin Wilson. Wilson was instrumental in the achievement of his current C.T. position on the amphibious assault ship PCU America, which is to be commissioned this year and then homeported in San Diego.
"(Woods is) just so full of life and enthusiasm and motivation. Just being around him is infectious, because he's so positive, so it makes you want to do better," Wilson said.  "So even though technically he works for me, I like to say that he works with me."
Woods feels he is now where he is supposed to be in his professional life.
[quote]"It's funny how things work, because you run into so much static when you're doing something that's not meant for you.  But as you go the way you're supposed to be, on your path, it just works out perfectly," Woods said. [/quote]
Proof of this lies in the title "Bluejacket Sailor of the Year" he earned in recognition of his outstanding performance by the PCU America Operations Department.
"I feel very happy and honored at the same time, but thankful that I've come from a Navy family where these qualities that they look for have been instilled in me for a while," Woods said. "Finally I'm in a place where things that I'm good at are being recognized."
After another recent package submission to be an officer, Woods was chosen and is now waiting to receive orders to begin his studies at Officer Candidate School in Rhode Island.  Though he will be leaving the PCU America behind, Woods is ready to continue moving his career forward. His goal for the Navy includes eventually becoming a commander or a captain, yet he knows his time in the Navy will not last forever.  After he retires from the military, Woods will be set to pursue his "ultimate goal," as he calls it, within the political world and "effectively produce change" as the governor of the Golden State.
"This is my home, I love it here," Woods said. "I'm going to have to leave, but it's always home, and I have allegiance to it.  So I would love to serve this state and be a governor."
Woods' transition from an unsure college freshman to a Navy seaman with big political aspirations is motivation for any college student looking for a place in the world.  As long as he maintains his unmistakably focused determination and palpable confidence in the path he is on, Woods is most certainly capable of making his ultimate goal a reality.
Photo courtesy of Glenn Sircy