STEM2 connects youth with SDSU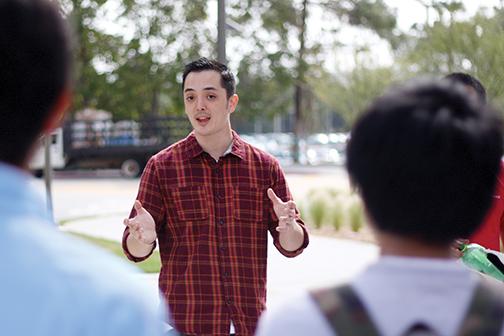 The Pre-College Institute at San Diego State held an event Friday to encourage youth to explore careers in science, technology, engineering and mathematics fields.
STEM2 Exploration Day, which brought 165 low-income middle school students to SDSU, featured various workshops and labs, as well as campus tours and a student panel.
The Pre-College Institute, which is part of the College of Education, has hosted the event since 2011. The event is funded through the Talent Search program and Talent Search grant, offered through the Pre-College Institute.
"This is the largest thing we put on ourselves," Coordinator of Service-Learning for the Pre-College Institute Nadia Rohlinger said. "We also do high school college visits and high school presentations."
Event attendees were from local  schools Monroe Clark Middle School, Wilson Middle School and O'Fareel Community Charter School.
The goal was to inform students about opportunities in math and science fields through hands-on activities.
"The future of the country is based on new innovations in science, technology and engineering, and the Pre-College Institute is dedicated to preparing and encouraging students to pursue higher education and careers in these fields by offering resources and programs such as STEM2 Exploration Day," Pre-College Institute executive director and SDSU Teacher Education professor Cynthia Park said.
Workshops and presentations included "The Science Behind Silly Putty" from the Black Student Science Association and an oceans lab from oceanography professor Clive Dorman. Other events included a planetarium show from astronomy professor Douglas Leonard and graduate teaching assistants Susan Kurth and Nicholas Earl and a workshop titled "No Brain, No Gain" from the PSI Beta Club. There was also a lecture from keynote speaker and Director of SDSU Computer Visualization lab Eric Frost, who informed students about "STEMing the Tide of disasters: Flood of Information Equals Insight and Better Decisions," in addition to a student panel fielding questions about college.
"We prompted them with a list of things they could ask, like how do you pick your classes, as something to build off of," mechanical engineering sophomore and Pre-College Institute service-learning tutor Cassandra O'Shea said. "It showed although college is a challenge, it's how you better yourself."
The event exposed children to a diverse learning experience, O'Shea said.
"They definitely enjoyed not being in class all day," O'Shea said. "They were really excited to be learning something new in a new environment."
Photo by Jenna Mackey, senior staff photographer