SDSU grad schools receive top rankings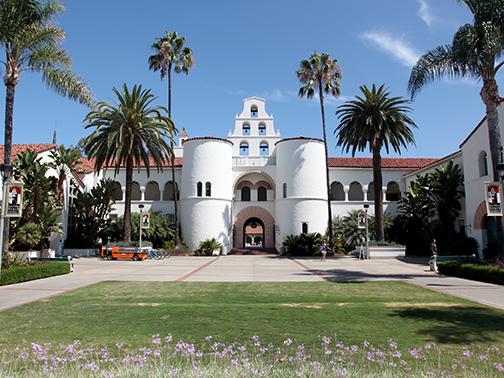 Several San Diego State graduate school programs received high marks in an annual U.S. News and World report released earlier this month.
SDSU's Rehabilitation Counseling program received the highest ranking, and was named No. 9 in the nation. The Rehabilitation Counseling program trains students to help individuals with physical, emotional or mental health disabilities improve their quality of life, leading to greater levels of self-sufficiency, according to SDSU NewsCenter. Several other SDSU health programs were in the top 30, including Audiology, (No. 27), Clinical Psychology (No. 26), Nursing-Midwifery (No. 29), Public Health (No. 30), and Speech Language pathology (No. 25), according to the March 11 report.
SDSU's rankings have not changed dramatically in the past couple of years, SDSU Provost Nancy Marlin said.
According to U.S. News, the health rankings are based solely on the results of peer assessment surveys sent to deans, other administrators and/or faculty at accredited degree programs or schools in each discipline.  
SDSU Masters in Rehabilitation Counseling Program Coordinator Charles Degeneffe said the last time U.S. News ranked the program was 2011.
"They repeat the ranking until the next survey, which is every five to six years," he said.
According to Marlin, this method of ranking doesn't always lead to the most accurate  results.
"Of course we like it when we have top-ranked programs, and we certainly mention it, but they send surveys out to people like me and they say, 'What do you think of all these programs?'" Marlin said. "It's very much a repetitional survey … the methodology is something a lot of people question."
Degeneffe agreed the ranking were not always the best measure of the quality of a program.
"You could question the methodology," he said. "The whole thing with U.S. News and World rankings is that it's hard to know the right formula."
However, the survey method of the rankings also highlights the program's national exposure.
"All of our faculty publishes in journals on a regular basis and participate in national conferences," Degeneffe said. "People around the country know (our faculty) is engaged."
Degeneffe also credits student involvement for the program's success.
"Our program has a very hands-on nature," he said. "Students have a lot of experience."
Marlin advises students make decisions for themselves, not based on rankings.
"When it says 'This is the best,' what does that mean? The best at what?" she said. "For example, there are some things that are much more easy to actually quantify, such as how we're ranked always as one of the top institutions with the number of students who study abroad. That's pretty clear. But when you say this is the best graduate program, what does that mean? The best at what?"
The university will continue to strive for excellence through its strategic plan, which includes focusing on certain areas of research through cluster hires, Marlin said.
"[Cluster hires] are trying to hire particular groups of faculty to work on particular areas," Marlin said. "They're not programs or rankings, but they are areas in which we have strengths. Thats something we're doing not for rankings, but for to be able to really have people who are doing important work in these particular areas."
Photo by Monica Linzmeier, photo editor