Actor shows his range at the Cygnet Theatre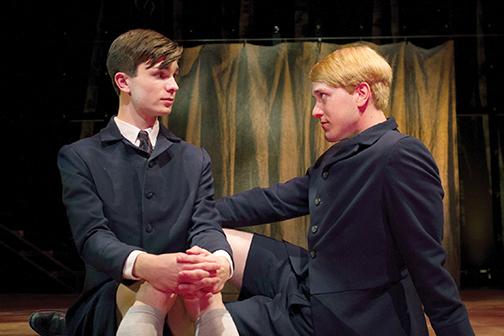 Actor Jacob Caltrider has worked with the Cygnet Theatre's artistic director and San Diego State alumnus Sean Murray several times throughout the last few years. He is currently in Murray's staging of the rock musical "Spring Awakening" as a comedically raunchy gay student, Hanschen. During free time between performances, Caltrider was able to answer questions about his career and history with the Cygnet.
The Daily Aztec: Tell readers a little about where you grew up and what lead to you pursue acting as a career.
Jacob Caltrider: I grew up in Escondido, and started acting when I was 13. For me, it started as a suggestion from my Mom-she saw an ad in the paper for a community theater production of "The Wizard of Oz," and I thought it might be fun, so I auditioned. It just sort of clicked, and I knew I had found what I was supposed to be doing. From there, I just kept auditioning for community theater shows, and started taking acting classes through my middle school and high school. I started my professional work at Diversionary Theatre when I was cast in "The Daddy Machine" shortly after my high school graduation, and I've been lucky to have had pretty consistent work since then.
The Daily Aztec: Who has influenced you the most as a performer and why?
JC: The people that influence me most are the ones I've had the privilege to work with throughout the years. That might sound cheesy, but a lot of what I've learned has been from watching other people work. I remember being part of the ensemble for "Yank!" (my second show) and quietly sitting in the back of the room, watching our director (Igor Goldin) doing scenework with the principles in the show. You can learn so much by paying attention to other people and watching them learn.
The Daily Aztec: Have you read the original "Spring Awakening" play, and if so, did it help you appreciate the musical adaptation more?
JC: Our cast has actually been circulating a copy of the original play throughout the rehearsal process. It's been fun seeing everyone finding things to help their characters develop and to have a better understanding of the world we're building. It's always great to have a resource like that.
The Daily Aztec: In previous shows under Murray's direction, you have played very dark characters. Here, you are comic relief. Do you like the change of pace?
JC: I love the comedic aspects of Hanschen. He's such a strange guy, and very funny in the context of the show, but he's definitely got a strong dark streak. He's a really fun role to play.
The Daily Aztec: How much do you relate to your character in "Spring Awakening?"
JC: One of my favorite things about a role like Hanschen is that he's a complete departure from who I am. I guess one thing we have in common is that he doesn't like to rock the boat, and sort of tries to blend in and go with the flow. Of course, he's got his own reasons for doing this-he's waiting for his moment to take what he wants and leave everyone else behind. I'm not so manipulative; I blend in only because I'm quiet and sort of socially awkward.
The Daily Aztec: What are some of the most memorable shows you have been a part of?
JC: One of my favorite shows has been "The 25th Annual Putnam County Spelling Bee" at the North Coast Repertory Theatre. I played Leaf Coneybear, and couldn't have had more fun doing it. He was just so silly and innocent and-joyful. Not to mention that show is literally different each night, and the cast was so wonderful – I could have done that musical forever. "Sweeney Todd" was another very memorable experience, I had always wanted to be a part of that show and thought I was too young and inexperienced to do it when Cygnet announced it. So when I was cast, I sort of flipped out-I was so excited! It's hard to choose only a few shows; each one has a lot of significance for me and I don't think I've been a part of a production that I don't look fondly back on.
The Daily Aztec: What are some of the difficulties of making a living as an actor?
JC: It's tough when you don't know how long you're going to have work. I've had friends who have worked two years straight with very little downtime, only to have an entire year with no acting work. Especially being a part of the Actors' Equity Association in San Diego-we have a lot of theatre out here, but there's always the looming possibility that there won't be any work for a while. It's good to have another job in your back pocket, and I'm lucky to be employed as a staff member at Cygnet.
The Daily Aztec: What theater characters would you love to play in the not too distant future and why?
JC: I must be crazy for saying this, but I haven't got any specific dream roles right now. I'm happy to work on whatever I can, and to discover fun and interesting characters along the way.
The Daily Aztec: Do you have any advice for SDSU students pursuing acting?
JC: I guess my advice would be to learn from everyone you can. Like I mentioned before, I've learned so much just by watching others work.
Also read: Talking theater with musical lead
Photo courtesy of Daren Scott