Alum artist knows how to write a 'vict'ory song'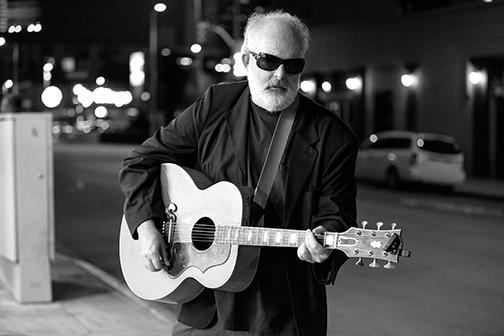 Fans of the band the Eagles, might not realize that Jack Tempchin, a writer of several of their hit songs is a San Diego State alumnus. The most famous tune he wrote is "Peaceful Easy Feeling," but the musician/singer/songwriter is also responsible for "Already Gone" with country musician Robb Strandlund. In a phone interview with The Aztec, Tempchin talked about his memorable musical experiences on campus.
When he attended SDSU, Tempchin ran a club called Backdoor in the basement of the former Aztec Center.
"I booked and opened for Tom Waits and we performed a song that we wrote together called 'Tijuana,'" Tempchin said. "Years later, someone on the Internet put up a recording of me and Waits playing that song. In those days, it was a big deal to record. You had to bring in a real tape recorder, so it was a surprise to see that it is now online."
"I also booked legendary blues players Brownie McGhee, Sonny Terry and Robert Pete Williams," Tempchin said. "I was able to book Tim Buckley, Jeff Buckley's father. He also stayed at my giant hippie pad that I had with six guys near Park Boulevard. He was one of the most awesome talents ever."
The club played a minor part in the Eagles' history.
"The backroom of the Backdoor is the location where I wrote 'Already Gone' with Strandlund while getting drunk on hard cider," Tempchin said.
During the interview, Tempchin mentioned a fascinating story about him and a founding member of the Eagles, Glenn Frey, another musician who played at the Backdoor.
"I was fixing up the Backdoor and we decided to carpet the room," Tempchin said. "Frey was staying at my pad and we stopped by a carpet place. All the old carpets were in a 40-foot pile in the backyard of the place. Glenn and I got a truck and we moved all the carpets to the Backdoor. It's funny that a future superstar was helping me move carpets."
Tempchin is grateful for being an Aztec.
"I went to several universities before SDSU, but I finished and got my degree there," Tempchin said. "The Backdoor and SDSU were a big part of my early adventures, and I'm happy to see it keeps on rolling."
Tomorrow, Tempchin's voice will be featured in a multimedia show called "For the Sender: Love Is (Not a Feeling)" at the Star Theatre in Oceanside. He will also be performing with Strandlund on April 19 at Bill Berry's Songwriter's Square in Los Angeles. The Eagles will be playing on campus at the Viejas Arena on Oct. 4. If Tempchin is able to make a guest appearance, that would give the audience a "Peaceful Easy Feeling."
Also read: Now playing: Nooner concerts and a theater at the student union
Photo courtesy of Steven Pereira