Oggi's to decide on alcohol regulations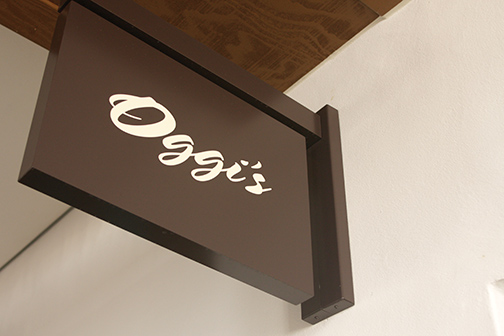 Oggi's Pizza and Brewing Company is scheduled to open in May. But while construction continues, the company is brainstorming ways to ensure that only patrons aged 21 and over will be served alcohol, Oggi's Director of Operations Shawn Hadjis said.
"Nothing is set in stone yet, but we have talked about wristbands, stamps, sign-in sheets and flashlights," Hadjis said. "We are trying to figure out what is the best policy to ensure who we are serving is 21 and over."
The California Department of Alcoholic Beverage Control advised Oggi's to examine regulation of patrons purchasing alcohol, as the restaurant is situated on the   San Diego State campus.
According to the department's website, selling to people under 21 or permitting them to drink alcohol results in a 15-day suspension for the initial violation. The second violation will result in a 25-day suspension, and the third violation results in revocation of the liquor license.
"But that isn't even the main concern," Hadjis said regarding the violation consequences. "We really just don't want anyone to be in harm's way, especially since we will be serving alcohol that is nine, 10 or 11 percent, like seasonal brews."
Hadjis said that the company is "leaning toward" requiring California ID cards or a California driver's license to purchase alcohol from the establishment. The company has also bought a portable ID scanner that is being tested for effectiveness before releasing scanners to the company stores. They would be used to read the information stored on the magnetic strip of driver's licenses and IDs.
If the company decides to enforce the California ID system of identification, out-of-state students would need to obtain one of these IDs in order to purchase alcohol at Oggi's.
According to SDSU's Analytic Studies and Institutional Research, there are 1,205 out-of-state undergraduate students and 190 out-of-state graduate students at SDSU for the Spring 2014 semester. The total population of undergraduate and graduate students for the semester is 29,392.
Finance sophomore Naif Alsidrah said although he has a California ID, if he didn't it would be "difficult, especially if you are with your friends."
Linguistics freshman Salman Alnukhaysh, said although he doesn't have a California ID, and may not be allowed to drink, he would understand.
"It's disappointing, but it would be okay," Alnukhaysh said. "I understand that that is what they need to do."
SDSU Chief Communications Officer Greg Block said there was a pub on campus for decades, until it was closed for reconstruction of the student union.
"I don't think having Oggi's Pizza and Brewing Company, a firmly established San Diego restaurant on campus, changes the dynamic of the university," Block said. "There are lots of people who are over 21 who want to have a drink once in a while, or who want to get a drink before a concert or campus event."
Hadjis said that the decision for the policy would be made soon to match the timing of the completion of the restaurant.
"We are here for the community and we don't want to turn anyone away but we want to make sure we are only serving 21 and up," Hadjis said. "Drinking is a privilege, not a right."
Photo by Monica Linzmeier, photo editor