Oh, Spirit rocked during their show at the Soda Bar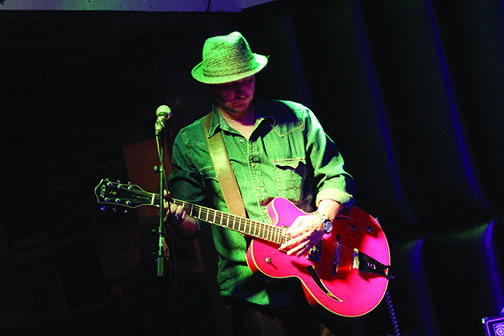 Oh, Spirit held nothing back on April 5 as the band performed its headlining debut and released a new digital single, "Price of Love." Diatribes and Michael McGraw and the Butchers also performed that night, making it a night full of good music and company.
Oh, Spirit was brought together in 2012 and performed its first show last year at Soda Bar. The band returned and rocked the house, pulling together a wide range of people to hear the music. Former musicians were there supporting the newer, up and coming artists that performed that night.
"We all support each other and play together," a former musician at the bar said. "If we don't have each other's support, we won't succeed."
The camaraderie, displaying an easy going atmosphere with the musician moving through the crowds and chatting with everyone made the scene just a little bit more real, rather than some money concert where the patrons never get close to the performer and there is a definite line of separation. There was no line of separation here. The musicians for each band, including Oh, Spirit were cheering on the others as they performed.
As a rising band, Oh, Spirit is working and pushing itself hard to be the best it can be. The show was energetic and lively: everyone moved to the music and cheers were heard all around at the end of every set. It wasn't a lazy show, where you could turn around and let the music fade into the background, ignoring them for your friends. Oh, Spirit definitely commanded the attention of everyone in the bar, and they deserved it.
Find Oh, Spirit on Facebook and keep an eye out for the band's next show. It will be one you won't want to miss.
Also read: The Jellicle Ball returns to San Diego
 Jordan Owen, Senior Staff Photographer