Autism awareness event lights SDSU blue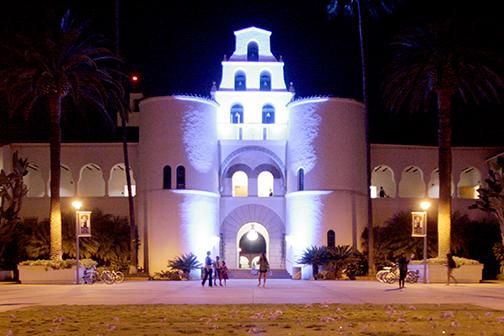 San Diego State students gathered Wednesday night at Scripps Cottage to raise awareness about autism. Aztecs for Autism was hosted by SDSU's Student Disability Services Department. The campaign for awareness, championed by the Austism Speaks organization, is called "Light It Up Blue" the color blue being a national symbol of education and awareness of autism.
Several speakers discussed the importance of understanding autism, sharing personal stories about how the condition has impacted their lives.
The event included a presentation of a video titled "My Name is David." The animated short film depicted a speech made by autistic student David Sharif to his high school classmates. The film was written and narrated by Sharif to educate others about autism.
In the video, Sharif highlighted the advantages of autism and communicates the message that individuals with autism are differently abled rather than disabled.
"I can easily tell you the capitals of every state, the coaches of every NBA basketball team, name all thirty baseball teams and what city they are in," Sharif said.
Student Disability Services Director Pam Starr led the discussion and addressed the intention of the event and guest speakers.
"We don't know the cause and we may never know the cause, but it's a matter of how we create equal access for any level that those individuals may be at in our society and how do we as a society educate ourselves to assist that," Starr said.
The focus of the lecture was to increase education and studies about autism. Starr also mentioned there are two research grants at SDSU specifically related to enhancing the study of autism.
Thomas Selbe, 21, was one of the featured speakers at the event. Selbe was diagnosed with autism at an early age and now attends Cuyamaca College. Selbe described his life with autism, comparing the condition to riding a rollercoaster.
"If you know someone with autism or a family that has autism, they just need to know that there is hope out there for them," Selbe said.
After the presentation concluded, the group moved to Hepner Hall to take pictures in front of the structure illuminated in blue light.  The Conrad Prebys Aztec Student Union was lit with blue light as well. The two landmark structures will be colored blue for several days in observation of autism awareness.
Autism Speaks organizes a variety of fundraising events dedicated to supporting autism research. At Liberty Station in Point Loma it will be hosting "Walk Now for Autism Speaks," a family oriented fundraising event this October.
Photo by Monica Linzmeier, photo editor