Foodie goes from blog to books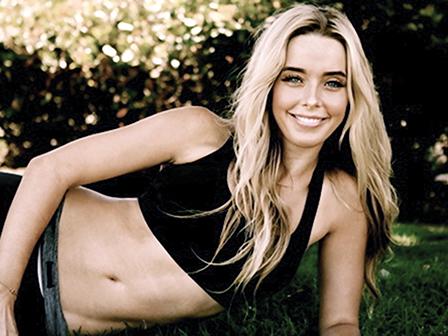 When Lauryn Evarts, a San Diego State alumna, began her blog shortly after graduating, she knew she was building a brand. With an average of 35,000 page views per day and 605,000 page views per month, Evarts certainly accomplished her goal. Her health and lifestyle blog, The Skinny Confidential, rated the most popular health and fitness blog in the world and has become so successful she has added another aspect to the brand: a book.
Evarts is not only the blogger behind The Skinny Confidential. She is also co-founder of the blog consulting and design company Blog-Doo, a model, pilates instructor, YouTuber and now a published writer. How does she do it all? Evarts said even she doesn't know, but her main goal is staying on top of the 200-300 emails she receives per day.
Evarts' experiences at SDSU are a large part of what inspired her to start The Skinny Confidential in September of 2011. During her time at SDSU, Evarts didn't have time to make meals at home, so she "got food from the food court and modified it" in order to make it healthier. She also said the sorority girls partially inspired her to start the blog.
"There are so many girls (at SDSU) and it is so hard to find healthy food on campus," Evarts said. "I saw a need for a blog that focuses on food."
According to Evarts, The Skinny Confidential began as a "niche food and fitness blog and has turned more into a lifestyle blog." She believes The Skinny Confidential embodies important life philosophies.
[quote]"Life is not about depriving yourself; it's about balance," Evarts said.[/quote]
Through The Skinny Confidential, Evarts helps her readers find balance in all aspects of their lives and follow her motto of healing from the inside-out. Now with her book, "The Skinny Confidential: A Babe's Sexy, Sassy Health and Lifestyle Guide," she hopes to guide her readers to lead a healthy lifestyle even more effectively.
Two years ago, Evarts' publisher approached her and asked her to write a book in the style of The Skinny Confidential blog.
"I was hesitant at first because the blog began as a brand and I didn't want to write a book just to write a book," Evarts said. "But the publishers told me I would have at least a year and a half to write the book and grow The Skinny Confidential brand even more during that time."
The book, which is available for purchase at Amazon.com and Barnes & Noble, has an even broader theme than the blog. The book covers everything from healthy recipes and fitness to healthy relationships. Because this first book is so broad, Evarts said she hopes to branch off and do niche books, such as a The Skinny Confidential beauty or food guide.
A few of Evarts' favorite healthy recipes from the book include squash with raw butter or marinara sauce, berries on ice and coconut yogurt, and skinny margaritas with blood orange or grapefruit. Evarts said her main piece of advice in order to stay healthy is to stay away from foods that claim to be low calorie, low fat or low carb because they're typically processed and filled with GMOs.
[quote]"Eat real food! It pushes all the bad stuff out," Evarts said.[/quote]
She also suggests mixing up workouts in order to avoid hitting a plateau and eating protein in the morning in order to keep blood sugar up all day.
One of Evarts' relationship-centric chapters in the book is called "Love Chub."
"(It's about) getting into a relationship and conforming to your partner's eating habits," Evarts said. "It doesn't work. You have to find independence from your significant other if they are unhealthy."
"The Skinny Confidential: A Babe's Sexy, Sassy Health and Lifestyle Guide" is just that—Lauryn Evarts' guide to leading a well-balanced, healthy and happy life, without the deprivation, of course.
Photo courtesy of The Skinny Confidential.