Weekend Picks: Theater and Record Store Day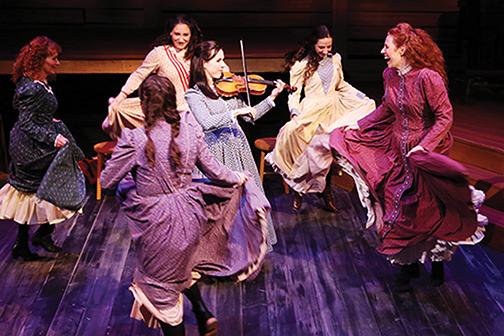 David's Picks:
"The Foreigner"
"The Foreigner" is a popular farce produced by Lamb's Players Theatre and is now in the middle of an extended run at the Horton Grand Theatre. The story follows Geno Carr as Charlie Baker, a quiet Englishman who goes to a rural Georgia fishing lodge for some R & R. His vacation becomes strange and stressful after many people in the village for some reason don't believe that he can speak English. With a cast that includes San Diego State alumni Nancy Snow Carr and Kevin Hafso-Koppman, be sure to check out this crowd-pleasing hit production.
"Quilters"
"Quilters" is a musical comprised of vignettes that revolve around a family full of brave and powerful women. Now playing at the Lamb's Players Theatre in Coronado, the show follows the lives of the matriarchal Sarah, played by Lamb's Associate Artistic Director Deborah Gilmour Smyth, and her five daughters. The episodic story features songs, monologues and a five-piece band with SDSU alumus Oliver Shirley on bass. Don't miss what could potentially be an uplifting and poignant production.
Ryo's Picks:
Record Store Day
For music fans, April 19 means Record Store Day. The annual event started in 2007 as a way to celebrate record store culture in times of digital music. Participating stores will carry Record Store Day exclusive releases from limited edition singles to vinyl reissues of classic albums. Some interesting releases include a 12-inch copy of Disclosure's studio track, "Apollo," and a vinyl reissue of the Jay-Z and Linkin Park album, "Collision Course." Several San Diego stores such as M-Theory and Access Hip Hop, will be participating. Check out the full list of participating stores and releases on the official Record Store Day website.
Luft Gesheften: The Value of War
Quint Contemporary Art in La Jolla recently opened a new exhibit featuring works by Kim MacConnel. His work primarily features bright colors and multiple patterns, and the artist combines various patterns, symbols and icons into a collage-like layout. The new work in the upcoming exhibition speaks on MacConnel's thoughts on the military and the purpose for war. Quint is open from Tuesday to Saturday, 10 a.m. to 5:30 p.m., and admission is free.
Also read: Weekend Picks: Annie Mac and Divergent
Courtesy of John Howard