Mistakes prove costly even without prize money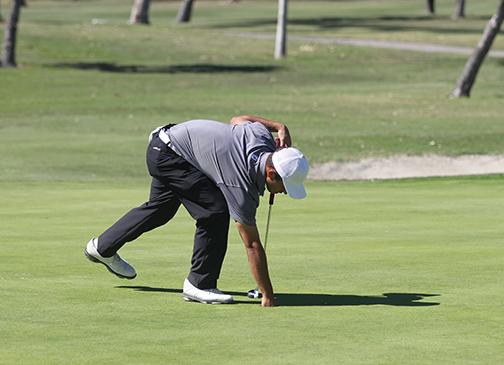 While PGA Tour pros were pacing the illustrious fairways of Augusta National Golf Club during the 78th Masters Tournament, the San Diego State University men's golf team had a date of its own at the 68th Annual Western Intercollegiate Tournament in sunny Santa Cruz. SDSU finished in fourth place, marking the fourth time this season the team finished in the top five.
The solid team effort was anchored by freshman Ricky DeSantis and junior Xander Schauffele who both tied for sixth place at three under par for the tournament. Their three-round scores of 207 was just four shots back of the tournament winner, Golfstat.com's No. 1 ranked Cameron Wilson of Stanford University.
DeSantis bogeyed three of his last six holes of his opening round which kept him distanced from the top of the leaderboard early. He followed Saturday's modest even-par 70 with rounds of 68 and 69 in Sunday's 36-hole finale. Given his inexperience, one might assume the freshman would be content with no over-par rounds and a top 10 finish. However, a closer look at the scorecard reveals six of DeSantis' eight bogeys in the tournament came on the back nine.
Whether it was nerves, poor course management or regular old bad luck (a cruel constant in the sport of golf), DeSantis has plenty of time to learn. Seeing as how medalist honors were a spear's throw away for the young Aztec, his late round ailments will surely be amended by the combination of time and competitive cravings.
[quote]"Ricky needs to stay in the moment and believe he is great," head coach Ryan Donovan said. "It's a process he will learn just from being in contention."[/quote]
Schauffele has been nails for the better part of the 2014 season and extended his recent run of wizardry on the links. Schauffele's tie for sixth place notched his seventh top 10 finish of the year, which includes five in his last six events. Just like his teammate DeSantis, Schauffele will look back on his 54-hole scorecard biting his cheek at just a few holes. Three bogeys in a row on holes 14, 15, and 16 of his second round proved to be the pitfall that kept him out of medalist contention.
In comparison with the pros, four strokes were all that separated this weekend's Masters Tournament winner, Bubba Watson, from fourth place finisher Miguel Angel Jimenez. Watson went home with a second green jacket to add to his collection as well as a hefty $1.6 million. Jimenez went home with $432,000 and a tan.
The Aztecs will gear up for the Mountain West Championship starting April 25 with their sights set on a third conference title in four years.
Photo by Sarah Smith, Staff Photographer