Documentary captures a unique life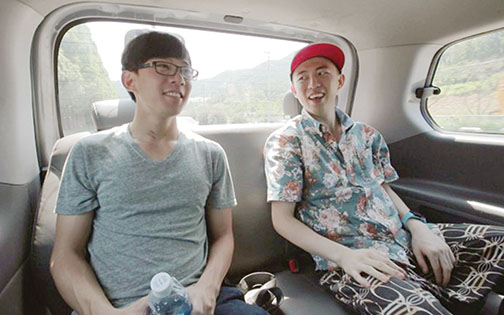 The life of San Diego State Alumnus Dan Matthews turned upside down this past year, and he's capturing it all on film.
Matthews was a Korean adoptee born and raised in California by American parents with a sister also adopted from Korea. Through a birth search, Matthews learned last year that he has another family: his biological family in Korea, including his parents, a sister, and amazingly enough, a twin brother. He recently released a unique documentary, telling the story of how dramatically and quickly his life has changed.
"Usually a process like this takes months to years to actually happen, and then even after you're put in touch with your biological family, it takes a while for you guys to actually meet," Matthews said. "But for me, I started (the birth search) like three months before I was going to go out (to Korea). I found out about everything two months before we were going to go out, and then I got the word that I had a twin brother about a month before I was leaving, so it's crazy how quickly everything happened."
The experience was recorded and released as a documentary TV series called "aka DAN: A Korean Adoption Documentary Story." Viewers can watch it on Hulu and DramaFever in four, 30-minute episodes, and on YouTube in the form of eight shorter videos. It was also broadcast and co-produced on a Korean television network called Arirang TV. In order to fund the costs of production and travelling, Matthews raised money through Kickstarter.
Now that he knows more about his personal story, Matthews believes that the experience has given him a new outlook on life. He feels a new motivation to get more in touch with his Korean heritage. Though he will be travelling to Korea in the future more than he ever expected in order to visit his family, he is happy with his life as it is now and doesn't plan to make any big changes to his career or his living situation.
[quote]"You don't have to be an adoptee, you don't have to be Korean, you don't even have to be Asian to relate to this story," Executive Producer Eugene Choi said.[/quote] "I think it's a very human story. Anyone with a mother, anyone with a family—I think they can all relate to this in some way. It really does speak to the human condition and just some common things that all of us humans share. We're always dealing with issues of family, identity and love, basically."
After graduating from SDSU, Matthews moved to Los Angeles to become a content producer for a YouTube channel called ISAtv that was started by Wong Fu Productions and hip-hop band Far East Movement. He performs as a hip-hop artist himself for fun under the name DANakaDAN, and he released a solo album as a companion piece to a documentary called "Stuntman."
Matthews is excited by the positive reaction to the documentary and hopes viewers will enjoy and relate to his story.
"I want it to be a piece of content that, when people watch it—especially adoptees—that maybe they can relate to it, or it's something that at least represents a viewpoint of my story that they wouldn't be able see otherwise," Matthews said. "I think that, as an adopted Asian American, this is something that represents our story."
Watch the first episode of "aka DAN: A Korean Adoption Documentary Story" below.