Aztec chef wins regional competition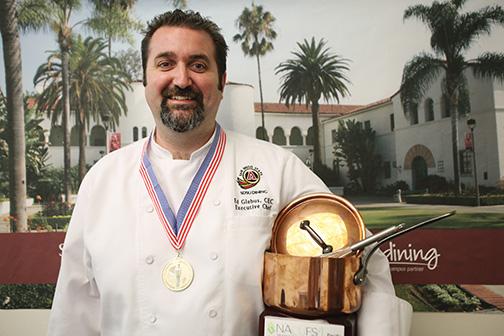 When Ed Glebus was first announced as the new associate director and executive chef for Aztec Shops at San Diego State, he had no idea his first order of business would be a three-day culinary competition at the University of Southern California. Glebus represented SDSU at the 2014 National Association of College and University Food Services Competition and took home the gold medal for his lobster dish.
A culinary contest
The competition, held April 5-7, invited college and university chefs from across the West Coast region to compete for the title as Best West Coast Chef at a college or university. The theme of the competition was "flavors," which is exactly how Glebus captured the hearts and stomachs of judges. He created a California-inspired, surf and turf dish with an element of surprise. He prepared a lobster pasta, pairing it with something a little different—beef bacon.
Judges asked competitors to create three servings of the same dish, only providing the chefs with two stove burners, a trash can and electricity. Everything else was up to the chefs.
After receiving praise from all four judges, Glebus was given the gold medal for his creative dish, and the Best in Show trophy. Competitors were graded on their sanitation, cleanliness, organization, creativity and execution, as well as other categories.
Glebus said he gets his inspiration to continue cooking from the kitchen itself.
"I love everything about the kitchen," Glebus said. "The pressure, the heat, the creativity, the craziness, the last minute-ness. You never stop learning in this industry. That's what drives me."
Humble beginnings
Before Glebus found himself on the SDSU campus, he grew up in Massachusetts, making sandwiches at a small shop where he discovered how much he loved being in the kitchen.
Once he arrived in San Diego, Glebus had his share of odd jobs including one at a Jamaican breakfast restaurant. Glebus then made the transition to hotel food service.
Glebus began working for the Marriott hotel in Downtown San Diego. He was a part of their fine dining restaurant, and gradually made his way up to the executive chef position. While an executive chef, he was introduced to the "farm-to-table" theory. Farm-to-table means making all food from scratch and sourcing all food products from a nearby farm. Glebus and a team of chefs began to execute the farm-to-table operation. According to Glebus, it was the first time it was introduced to San Diego,.
"Vegetables like carrots were picked that morning, cooked, peeled and served the same night," Glebus said.
He saw the benefits of cooking with fresh foods, in both health and taste, and after five years transferred to the Marriott's Mission Valley location, taking with him his precious knife kit and the farm-to-table philosophy. He soon joined the Business and Industry Food Service and started working at the Qualcomm offices with the CulinArt program.
[quote]"CulinArt's philisophy is the food comes first," Glebus said. "Which is my philosophy as well, because if the food isn't right to begin with, then why are you going to go and eat it?"[/quote]
Changes at SDSU
Glebus was welcomed to SDSU last January and now oversees the Cuicicalli dining hall, University Towers Kitchen, the production kitchen, bakery and the faculty and staff club. He was given the executive chef position based on his background and certification from the American Culinary Foundation.
Glebus has several ideas to improve SDSU's dining services.
[quote]"My ultimate goal is to make the food a lot better and something students want to eat, too. I'm not going to put something on a menu they don't want to eat," he said.[/quote]
Obtaining the ACF certification was an accomplishment Glebus made while first working at the Marriott. He is now able to administer and proctor the tests. He plans for all chefs at SDSU to be ACF certified in the near future, something that will not be easy for them.
The ACF certification test requires chefs to take management, sanitation and nutrition courses, then take a written exam with a given list of ingredients to create a menu, cook an appetizer, entree, salad and dessert for four different judges.
This certification opened the door to several opportunities for Glebus. While he was working at Qualcomm, the Navy approached him and asked him to travel to Japan for two weeks to help certify a group of 20 chefs. Glebus is now serving as the Chairman of ACF Board, San Diego chapter.
Looking ahead
Glebus will travel to the University of Massachusetts, where chefs from around the country will celebrate and compete in the 20th annual Tastes of the World Chef Culinary Conference. Glebus will be taking three other SDSU chefs along with him. This is a four-man basket competition, where judges give chefs a product and the team is asked to create a menu, and then execute a salad, entree and dessert for 10. The competition will be held on June 15 to 20.
Glebus will then head to Baltimore, Maryland in July to compete for the national title as best college and university chef. Though it will be a long journey, Glebus knows he will have an entire campus of supporters back home.
For future students who wish the same success Glebus has had in the culinary industry, he recommends experience before making any committments.
"They teach you a lot in school, but that's just a foundation. Once you get into the real world, you realize you're not going to be the next Emeril Lagasse or Bobby Flay," Glebus said.
Photo by Monica Linzmeier, photo editor