Where are the recruits at?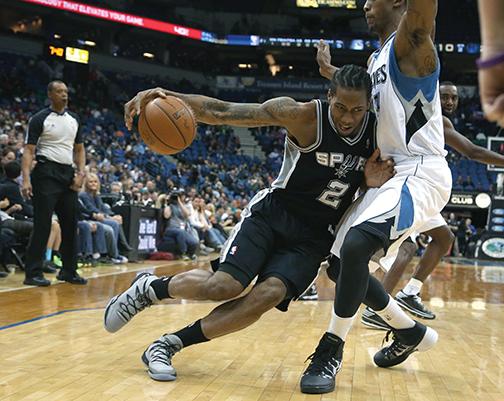 San Diego State is known for a lot of different things, but sports are generally undervalued when you think of the Aztecs.
This began to change when SDSU hired Steve Fisher to run the men's basketball program in 1999. The season before they hired him, the Aztecs went 4-22 and experienced their fourth losing season in the last five years under head coach Fred Trenkle, who resigned after that season. Since then, the Aztec men's basketball program has been on the rise and has put SDSU sports on the map.
For example the men's basketball team has reached the NCAA Tournament for the past five consecutive seasons, reaching the Sweet 16 two out of those five seasons and winning the Mountain West Conference Tournament two out of those last five years.
During this dominant stretch of men's basketball Fisher has recruited many star players to help carry the load for the program. Players such as Kawhi Leonard and Jamaal Franklin who have taken their talents to the NBA come to mind. Leonard has even played a vital role on a San Antonio Spurs team that has had the best record in the NBA's Western Conference two out of the last three seasons. Winston Shepard, who was a former four-star recruit, and Xavier Thames are also two standouts for SDSU men's basketball that have potential to be in the NBA in the near future.
This all makes me wonder – if we can have this much success in getting these star players to come to SDSU for men's basketball, then why can't we build the same type of success in baseball and football, the other two major sports?
Marshall Faulk showed everyone that Heisman worthy buzz could come out of San Diego in his 1992 season at SDSU, finishing second in the Heisman Trophy award voting, before losing to quarterback Gino Torretta in what was considered a notable snub in the history of the award.
Ronnie Hillman more recently showed that an Aztec could take the next step into the NFL when he was drafted in the third round by the Denver Broncos after his redshirt sophomore season.
This leads me to my next question: If we have had players that have shined in college football, why can't we land a major college football recruit at SDSU?
The football team's recruiting class ranked 74th in the nation racking up 26 commitments from 13 three-star recruits and zero four-star or five-star recruits.
What's the problem here? Is it because we lack a big-name coach like we have in Fisher for men's basketball? Is it because there are so many marquee college football schools to choose from in California, such as University of Southern California, Stanford University, University of California, Berkeley and UCLA? Or is it because our football program and the Mountain West Conference lack a certain prestige or tradition like the PAC 12 or the SEC?
Whatever the reason may be, our mediocre draft classes year after year will force SDSU football to be a mediocre team. Don't get me wrong the football team has had its bright spots in recent years, sharing the MWC in 2012 after a shocking upset against the Boise State University Broncos. They also made headlines when they beat then-redshirt senior linebacker Kahlil Mack and the Buffalo Bulls in the Idaho Potato Bowl last year. But Aztec nation craves the national attention like we've gotten in recent years from our basketball program.
The same thing goes for baseball. Steven Strasburg showed that a player from SDSU could be as good as a No. 1 pick in the MLB draft. Head baseball coach Tony Gwynn, a former San Diego Padre and SDSU legend, definitely knows what it takes to build a championship baseball team.
Where are the results? SDSU has only been to the College World Series twice in the last five years. It hasn't sniffed the championship series during that stretch.
I believe SDSU has the potential to be great in all three major sports, and the basketball teams recent success has proven that. Football and baseball need to follow the recipe Fisher has cooked up for basketball. Maybe then they'll grab some much-needed top recruits.
Photo courtesy of Kyndell Harkness, Minneapolis Star Tribune, MCT