Divestment bill shot down again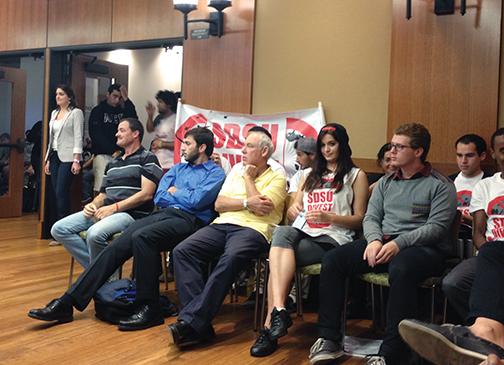 The San Diego State Associated Students University Council met this past Wednesday to listen to public comments from Students for Justice in Palestine, Aztecs for Israel and other concerned parties regarding the proposed divestment resolution. The room was packed to maximum capacity and after two hours of public comment and a six-and-a-half-hour meeting, the majority of the council voted against the resolution.
Sixteen members of the council voted against the proposition, three voted for it and three abstained from the vote.
"We are happy that the school didn't take an anti-Israel stance," Aztecs for Israel President Nirit Revzin said. "There is a reason why the resolution didn't pass and I hope that—moving forward—if Students for Justice in Palestine focused less on demonizing Israel and more on human rights, they will have their way. I don't think this was an effective situation for either side."
The resolution, proposed by the Student Diversity Commission, called for the divestment of companies and products believed to be used by Israelis against Palestinians in the West Bank.
A.S. Judicial Affairs Chief Justice Sean Guardian advised against voting on the resolution during the public comments section of the meeting.
"The resolution fails to acknowledge that both sides of this issue are guilty of misconduct, errors and mistreatment towards each other," Guardian said. "This sort of conflict is happening not just in Israel, but all over the world."
After public comments concluded, the council reviewed the resolution for citations included in the document. Some members of the council voiced their concern about the wording of the document and the lack of citations. After several hours of reviewing the document, the council voted.
"We are invested in corporations that benefit when there is war," SJP Co-Chair Nadir Bouhmouch said. "There are Palestinian students that go to this university … they have to come here every single day knowing that this university invests in the very companies that are used by Israel to murder and oppress their families back home."
Both concerned parties felt the legislative process took a lot longer than it should have, as the legislation was introduced back in January.
"The fact that it took this long to get a resolution, to even get to the elected body through unelected bodies, is absurd," Bouhmouch said.
Revzin expressed frustration about the time students spent working on the divestment and anti-divestment campaign.
"Divestment has taken up hours of our lives, nine weeks we will never get back," Revzin said.
SJP members plan to continue to introduce divestment legislation to A.S. next semester.
"Just because it was voted down this year, doesn't mean we won't continue," Bouhmouch said. "There are many young activists that are determined to continue this divestment campaign."
Divestment resolutions have passed on the campuses of UC Riverside, UC Berkeley, Loyola University Chicago and University of New Mexico.
Photo by Camille Lozano, Senior Staff Writer