Org. plan to help SD homeless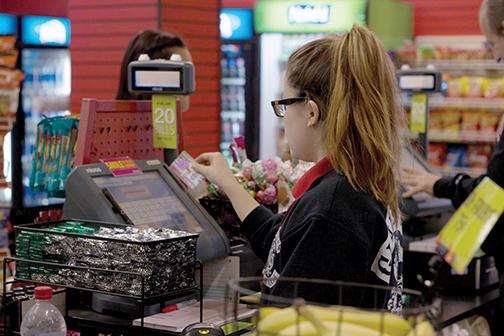 A new student organization at San Diego State may let students donate leftover meal plan money to provide food for the homeless.
Swipes for the Homeless is an international organization that began at University of California, Los Angeles, where students would swipe out meals from their dining hall and deliver them to homeless people in Los Angeles. Now an official nonprofit organization, the program has switched to transferring meal swipes into non-perishable goods, and serves more than 60 universities across the world.
Public administration senior and Swipes for the Homeless President Mia Sarno is spearheading the program's introduction to SDSU. She got the idea at her internship for the city of San Diego, where she was inspired to bring the program to local campuses.
"I was really passionate about it, and I was doing a lot of research about it—how big the population is, how big the age range, which is actually really close to a lot of college kids' age—and I was like well, let's try to pilot the program at State," Sarno said.
She said San Diego is ranked third in homelessness in the U.S., and has a homeless population of roughly 10,000, with half of the population under age 25. Sarno's final project for her Rhetoric and Writing Studies class, creating a fictitious student organization, helped build the SDSU chapter. She said two of the chapter's main board members were part of her RWS group.
Swipes for the Homeless was officially recognized as a student organization about a month and half ago. The organization hopes to implement the Swipes program beginning next fall.
Political science junior and Swipes for the Homeless president for the 2014-15 school year John Giguere said the program hopes to receive backing from Associated Students before entering into negotiations with SDSU Dining Services.
"Having the student body's backing shows support on campus and that they want this to happen," Giguere said.
The program would most likely be geared toward the Meals Plus Plan, since the money rolls over and must be used by the semester's end, Giguere said,
Although the Swipes program is not currently available on campus, the group has held several other events, including food fundraisers and will host a launch party and concert on May 9. According to the program's Facebook page, the event will be a Choose5 Campaign, which encourages students and community members to donate at least $5 electronically or bring five pieces of lightly-used clothing or five non-perishable items of food at the door.
"We've proven already we're more than just the swipes," Giguere said. "We're doing a lot of volunteer operations, and we're planning on going every Wednesday and Thursday to donate time, probably at an organization like the San Diego Food Bank."
Along with being the first California State University to have a Swipes chapter, the group plans to go above and beyond donating leftover meal plan money.
"If you're eating your meals, that awesome, but if you're not empowered to find work or get off the streets, that's hard," Sarno said. "We're hoping to create mentorship relationships within the community, and there's a couple of organizations I've started the conversation with, but right now a lot the events were doing are focused on donating food or money."
Photo by Megan Wood, Staff Photographer