Former Aztec Strasburg struggling in MLB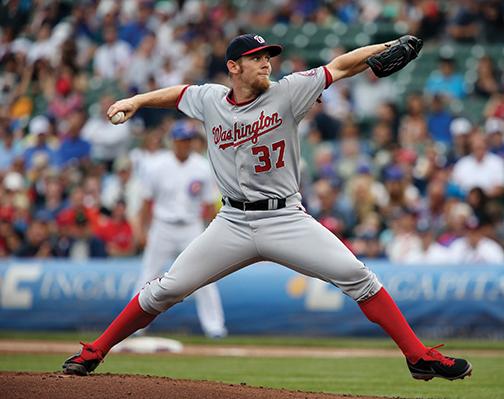 Not too long ago Stephen Strasburg was deemed to be the next great pitcher in Major League Baseball. On June 9, 2009, Strasburg was drafted No. 1 overall by the Washington Nationals and was called the most-hyped pick in draft history by ESPN. He was also given the biggest contract for a No. 1 overall pick signing for $15.1 million.
None of this happened by mistake. Strasburg deserved all the hype he received after the stellar college career he had at San Diego State. In his last home start on May 8, 2009, he threw a no-hitter against Air Force, further cementing his case to be the no. 1 pick in the MLB draft that year.
Success followed Strasburg to MLB when he was brought up to the Nationals on June 8, 2010. In his major league pitching debut he set a new team record for strikeouts by striking out 14 batters and not walking a single batter. Strasburg also picked up the win in his much-anticipated major league debut.
Later on in that season, after only his third major league start, it was revealed that he had a torn ulnar collateral ligament, requiring Tommy John surgery and 12 to 18 months of rehabilitation.
Strasburg has never been the same since his injury and many people have pointed to his mechanics as a long-term issue that might affect his career moving forward. Even before his surgery, scouts were concerned with how he pitched. The sequence of Strasburg's delivery places a great deal of stress on his arm, placing him at greater risk of elbow and shoulder injuries.
This injury changed Strasburg's career and the way everyone views him now. Since this injury, Strasburg has been on a close watch by the Nationals to make sure it does not happen again. At the beginning of the 2012 season they put an inning limit on Strasburg and said he could only pitch a certain amount of innings that season. They even shut him down in the middle of a playoff race, making this inning limit even more controversial.
This season there is no limit on him, but it has been hard to recognize the budding superstar that Strasburg once was. His numbers this year are the worst in his career; he is 2-2 with a 3.6 ERA and a 1.38 WHIP which are both worse than his career averages of a 3.02 ERA and 1.1 WHIP. At one point this season, Strasburg had a 6.0 ERA that ranked him fourth worst in the MLB.
Its not just Strasburg who is struggling, but his team is as well, which makes his poor performance a more glaring issue. The Nationals have only made the playoffs once since Strasburg came to town in 2009.
Strasburg came into the MLB as one of the most hyped pitching prospects in league history, however so far his career has not lived up to the hype. Strasburg was supposed to come to the Nationals to dominate and win multiple Cy Young awards. Instead, his first four years in the league have been overshadowed by injuries and being shut down in the midst of the best season the Nationals have ever had.
Strasburg was supposed to be a can't-miss, sure-fire Hall-of-Famer. He was supposed to be the best pitcher in baseball by now. Yet his numbers and his career so far are pointing toward him being the most overhyped player in the history of the MLB draft and, dare I say, a bust.
It's too early to tell for now because he is only in his fifth season, and it looks like he has many years ahead of him unless the injury bug keeps biting. And this is all perhaps an overreaction considering he is second in the National League in strikeouts, but if Strasburg wants to live up to his Hall of Fame hype he came into the league with, he is going to have to do a lot more than that.
Photo by John J. Kim/Chicago Tribune/MCT