Witty musical opens at the Old Globe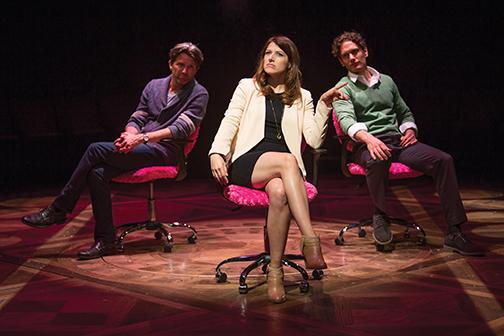 The world premiere musical comedy playing at The Old Globe, "Dog and Pony,"is the exact opposite of a dog and pony show. Instead of being a satire of these bombastic events, the story is a rather intimate one that is appropriate for the Sheryl and Harvey White Theatre.
Andy (Jon Patrick Walker) and Mags (Nicole Parker), a screenwriting team, are best friends that care deeply about each other. While they seem like a perfect match, Andy has a child with his gun-loving wife, Jane (Heidi Blickenstaff). The tale goes back and forth in time to show how Andy and Mags' bond was destroyed.
This new production features big names behind the scenes. Rick Elice penned the book to "Dog and Pony" and he is known for co-writing both the stage and film version of "Jersey Boys" with Marshall Brickman. He includes a balance of witty and lowbrow situations with jokes ranging from lampooning Hollywood to poop humor.
Theater fans might know Michael Patrick Walker for co-writing the music and lyrics to "Altar Boyz" with Gary Adler. Walker's songs are rarely simple melodies. His compositions are insightful and frequently funny tunes that help the audience learn more about the characters. All numbers are exquisitely played by the orchestra, conducted by keyboardist, Adam Watcher.
Director Roger Rees is equally respected as a thespian and artist. Some might be familiar with him for directing "Peter and the Starcatchers" while others might recognize him for his performances in "The West Wing" and  "Cheers." He can be labeled an actor's director because of the enjoyable performances he gets out of his cast.
Walker's dialogue early on makes Andy come across as a pompous narcissist, but the character grows in an extended sequence set in The Ketchum Komedy Honors, a fictitious awards ceremony. With his Alan Alda-like charisma, Walker becomes more likeable during his extended conversations with Parker.
As good as Walker is, the women steal "Dog and Pony." Parker delicately delivers one-liners with the confidence of an A-list Hollywood megastar. She also displays neurosis and furious anger wonderfully in tunes such as "What the Hell am I Doing" and "Mags Takes Flight."
Beth Leavel and Blickestaff get some of the biggest laughs portraying several people who stand in the way of Andy and Mags becoming a couple. A scene with them towards the climax is a highlight of "Dog and Pony."
"Dog and Pony" turns out to be a fresh look at human relationships. This is just another example of why Rees is such an accomplished and skillful entertainer.