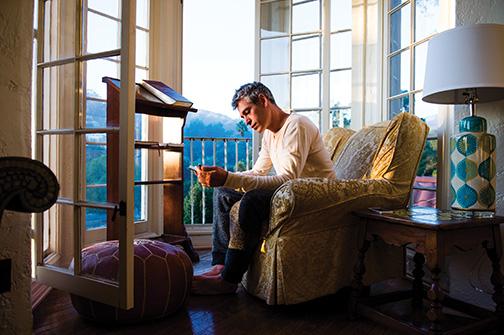 It's been nine years since Matisyahu released "Live at Stubbs," the album that popularized him among the reggae and alternative hip-hop communities. Since then, Matisyahu has stepped down from the spotlight and developed a more subtle appearance for his newfound self. His recently released album, "Akeda,"can be seen as a representation of his life journey into the understanding of his own human consciousness.
In comparison to Matisyahu's previous album, "Spark Seeker," which consists of a strong pop sound and multiple featured artists within tracks, "Akeda"embodies the more rootsy, organic feel and brings music back to its bare essentials.
"This record has more of a dark feel, dark space to it, a lot less ear candy, less synthesizers, less layering," Matisyahu said. "I got into this really creative phase, both musically and emotionally in my life."
"Akeda"is also a more personal record. For its creative direction, Matisyahu covers his new awakening in the music.
"During the time, I had a lot of changes in my life," Matisyahu said. "I went through finding myself again after many years of being embedded in a religious ideology. I began to think for myself. I shaved, I changed the way my appearance looked, I got a lot of backlash from people. I went through a divorce, I had issues with addiction, I had a lot more serious things going on in my life I had to deal with."
Speaking about his outlook on the outcome of "Akeda," Matisyahu holds high hopes for the first album he can really call his own. Not being signed with a major record company has helped him produce some of the most personal and pure sounds of music, not only by himself but also with another big name in the reggae industry—Collie Buddz.
"At this point in my career I only work with people that I respect and that I'm friends with," Matisyahu said. "So, Collie Buddz was the obvious fit I saw there. He has that real rootsy reggae flavor, and I love his style so I brought him on in the record."
After working on "Akeda"for so many years, Matisyahu is proud to embark on a summer of touring around the world. From Russia to Portugal, the small island of Guam, and even San Diego's very own county fair, he will be performing some of his most heartfelt music across the world. Matisyahu comes to the San Diego County Fair's Summer Concert Series on July 3. Start Fourth of July early by exploring the places Matisyahu can lead you to.
"Music should transport people, it should bring people somewhere," Matisyahu said. "That's the kind of music I'm interested in making."