Five reasons Vans Warped Tour is lame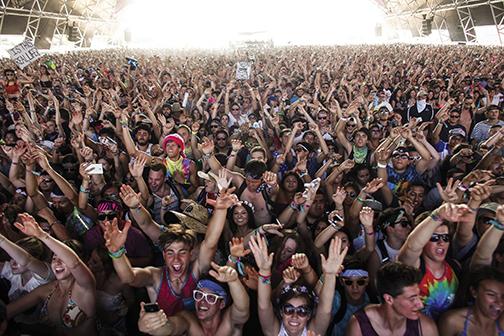 As far as admission prices are concerned, Vans Warped Tour is one of the better musical festivals to attend. One ticket costs a little more than $40, compared to other festivals that cost upwards of $400. However, on top of being rather niche and designed for a younger audience, several other problems haunt Warped Tour. With more than 100 artists (or 91 if you're unluckily attending the Chula Vista leg of the tour) and multiple stages, here are the top five reasons why Warped Tour isn't worth your time.
5. Lame crowd
The audience's attitude can be the difference between a good concert and one so great it will still be remembered during the late stages of Alzheimer's. Large audiences aren't always a problem, but the overall popularity of Warped Tour makes for an oversized, under-excited crowd. Since Warped Tour attracts tons of viewers each year who only come to see one particular artist, many of the fans don't know or even care about the dozens of other bands performing. With so many unenthused people at a concert, the overall mood will be significantly less fun than a smaller concert.
4. The view
Unless you're the hippest of hipsters, or you stake out a spot and wait through all of the opening bands, you will be much farther from the stage than usual when the band you like finally comes on. Many people have the mentality of the closer the better. The influx of punk-rock teens elbowing their way to the front of the crowd inevitably pushes everyone else farther back. Whether you like to be near the mosh pit or comfortable with some personal space, the thousands of people packed like sardines create an uncomfortably distant concert experience (yes, this could've been combined with the last point, but let's be honest, "Top 5" sounds much better than "Top 4").
3. Short set lists
Despite that there's approximately 10 stages, most artists—especially the older ones—are held to a strict time limit. Don't even bother uttering the word "encore" because even if they're the last band of the day, encores don't exist at Warped Tour. Unfortunately, the sheer quantity of artists means staying on schedule is more important than fan experience. And chances are, if you like that one really obscure song, you won't hear it at Warped Tour.
2. Scheduling conflicts
With so many artists playing different stages, there isn't enough time to see every individual show. Unless you're only planning on seeing a few artists, which probably wouldn't justify the admission price, you'll have to make tough decisions when multiple artists you like are playing at the same time. Regardless of genre, two artists you came to see are almost guaranteed to play at the same time. To make matters worse, there's also a chance of no one remotely decent playing for hours at a time. In all honesty, this wouldn't be so high on the list if Warped Tour released the schedule in advance, but no—schedules aren't set until the day of the event. Basically, there's not guarantee you'll get to enjoy every show you've been so excited to see. In fact, it's practically guaranteed that you won't.
1. Sound quality
Call me old fashioned, but the music comes first and foremost at any concert, as a live performance can make or break a person's opinion on an artist. Whether it's caused by being outdoors, being so far away or exhaustion from excessive touring, artists at Warped Tour don't sound as good as they should. There are exceptions, obviously, but knowing that many won't perform at their best, you might as well just wait until they return to San Diego on their own.