Top Five NBA Teams That Should Draft Xavier Thames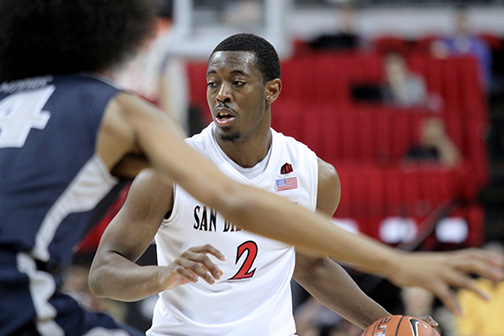 After an incredible breakout senior season, former Aztec Xavier Thames was invited to participate at the NBA draft combine in Chicago last month, along with traveling and working out with multiple NBA teams. Leaving San Diego State as a Mountain West Conference regular season champion and Mountain West Player of the Year, Thames will put his best college season behind him in hopes of playing basketball professionally for his career.
On Thursday, June 26, Aztec basketball fans will be rooting for the "X-Factor" to be selected by a team in the NBA draft. As of now, there are mixes of NBA mock drafts with some having him being selected in the late second round to being undrafted. Nonetheless, Thames may likely get a second look in the upcoming NBA summer league, or look to play professionally overseas. As Aztec fans hope to see Thames name called, only time will tell if he's destined to take his talents to the next level. In the meantime, here are five NBA teams that he could possibly fit right now if drafted.
San Antonio Spurs
For many reasons, Aztec basketball fans definitely paid closer attention to this year's NBA Finals. Former Aztec Kawhi Leonard, who left SDSU for the NBA draft in 2011, matched up with the defending champion Miami Heat for a second consecutive NBA Finals. This time, Leonard got his revenge on LeBron James and the Miami Heat, claiming the finals MVP and leading his team to win it all. San Antonio's success with players out of SDSU could potentially lead them to selecting Thames. As the Spurs have two late second-round picks, they could consider using one of them to select Thames just to get a second look at another Aztec.
Chicago Bulls
At the NBA draft combine in Chicago, Thames competed and shot the ball the best out of all the prospects that competed in the shooting drills. He completed 75.5 percent of his shots which led all shooters that day. If Thames performed his best shooting in the Windy City, it could potentially be an NBA destination of where he's comfortable playing. Beyond just his NBA draft workouts in Chicago, the Bulls are actually in need of a backup point guard with how injured their star guard Derrick Rose has been these last two years. It wouldn't be a bad fit for Thames, who's also a very good on-ball defender to play for the defensive-minded coach in Tom Thibodeau. Currently, the Bulls hold the 49th pick in the second round of this year's NBA draft.
Indiana Pacers
The Indiana Pacers were actually one of the teams listed that Thames worked out for prior to the draft. The Pacers could use a backup point guard. Thames may not be a bad selection at all for the late second-round pick that the Pacers, who currently hold 57th overall pick. As of now, the backup point guards in Indiana are C.J Watson and Donald Sloan. It shouldn't be too hard for Thames to outplay either of those players for a roster spot. After coming in for a pre-draft workout, the Pacers may be somewhat serious about selecting Thames if he were available.
Los Angeles Clippers
The Los Angeles Clippers may not have a second-round draft pick in this year's draft, but believe it or not, Thames was still invited to a pre-draft workout with the Clippers. Although he didn't perform very well, only scoring six points on 3-for-10 shooting from the field, the Clippers must be somewhat curious about Thames to invite him to workout and watch him play in a group scrimmage. After all, Chris Paul's backup Darren Collison just recently decided to opt out of his contract, leaving the backup point guard job open in "Lob City". Known as a pretty good defender at SDSU, the Clippers could be considering Thames  as a backup option.
Sacramento Kings
There's no place like home. In Thames's case, this would be a lifetime dream to return home and play professionally for his hometown Sacramento Kings. Just like the Clippers, the Kings do not hold a second-round pick this year. After cutting ties with former Mountain West Conference point guard Jimmer Fredette in the middle of last season, the Kings don't really have a backup point guard other than Ray McCallum who struggled adjusting to the NBA last season. It wouldn't be a bad place at all for Thames to play who could fit right in as a potential backup point guard for his home town team.