Netflix actor performs at The Old Globe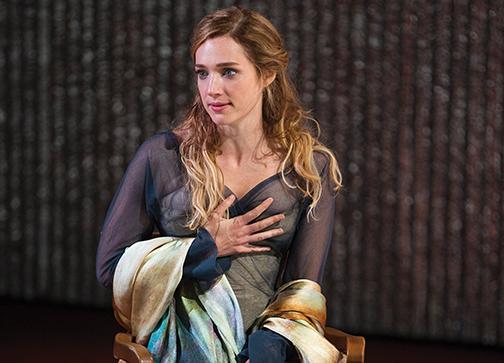 Kristen Connolly's career has significantly grown during the last couple of years. She had a breakout leading role in the acclaimed horror film "The Cabin in the Woods" and plays Christina Gallagher on the Netflix original series "House of Cards." She is going to be co-starring in an interpretation of William Shakespeare's "Othello" as Desdemona with Blair Underwood and Richard Thomas at The Old Globe. After a busy day of rehearsal, she was able to discuss Shakespeare, working with masters of The Bard and why "Othello" is still relevant.
The Daily Aztec: Can you tell readers a little bit about your background and what lead to you pursuing acting as a career?
Kristen Connolly: I studied theatre in high school and college and really enjoyed acting. I was working in different plays. I specifically loved Shakespeare, but I only had a little bit of training from undergrad experience. I had a teacher who was a big Shakespeare fan and I learned a lot from him.
I did not know how to go about pursuing a career in theatre, so I did a program in New York called The Actors Center. The teacher there encouraged me to apply to grad school. I ended up going to the Yale University School of Drama. That was the jumping off point where I committed to acting as an actual job.
The Daily Aztec: Who has influenced you the most as a performer and why?
Connolly: I had really wonderful teachers who have influenced me. I had a teacher/director in Montclair, New Jersey where I grew up, Christian Ely, who sort of introduced me to Shakespeare. I had a really wonderful Shakespeare teacher who is also an actor, Peter Francis James. Another influential teacher was Rob Van Lieu, the head of the acting program at Yale. I still think about all the things I learned in their classes during every audition and every performance I give. I usually dig out my notebook for quotes that they said because all of them are extraordinary.
The Daily Aztec: Why do you think "Othello" is still a classic Shakespeare tragedy?
Connolly: There is timelessness about Shakespeare's plays and "Othello" in particular. There is a lot of truth in the relationships that people can understand in a basic way. Everybody knows what it feels like to be jealous similar to the protagonist.
The character of Iago is still relevant because people always want to know why certain human beings are so evil. Shakespeare created an amazing glimpse into the mind of a person who is responsible for such unspeakable cruelty.
I also think that the writing is beautiful. Some of the phrases such as calling someone "honey" and a reference to the expression "crocodile tears" are wonderfully used in the text.
The Daily Aztec: How is it like working with Blair Underwood and Richard Thomas?
Connolly: They are both incredibly kind, warm and generous. The two of them are thoughtful actors and people. Underwood and Thomas make everything pretty comfortable and really want to tell the most truthful and interesting story that we can.
The Daily Aztec: You have worked with several Shakespeare authorities and artists including Barry Edelstein and Joss Whedon. How have they increased your knowledge or change your perceptions of the Bard?
Connolly: Edelstein is really unparalleled in his knowledge of Shakespeare. He has insights that can completely change the meaning of a phrase or a character's intention. I worked with him at the New York Shakespeare Festival and he opened my mind to all the information that is in the text. There are very few stage directions in the text, but it's all written into the language. I find it cool to do that kind of detective work with the script.
Whedon loves Shakespeare. On the set of "Cabin in the Woods" he would ask the cast what our favorite Shakespeare roles were. He has Shakespeare readings at his house, which inspired him to direct his movie adaptation of "Much Ado About Nothing." His appreciation of Shakespeare shows in his writing because he is very thoughtful with words.
The Daily Aztec: Do you have a preference working on TV shows, film or theatre and why?
Connolly: Not really. My preference is to work on good material. What is really exciting in this day and age is that people can really move seamlessly between television, film and theatre, which was not always true in the past.
The Daily Aztec: Are there any specific characters or roles you would like to play in the next couple of years?
Connolly: There are many wonderful roles for women that Shakespeare has written. At some point, I would love to play Beatrice in "Much Ado About Nothing." I want to play either Viola or Olivia in "Twelfth Night." I have acted in "Three Sisters" in college and grad school, but I really want to play Masha. I also really enjoy working on new material. There is a play-writing program at Yale, and students always got to work in fresh plays. Seeing the scripts evolve is very exciting.
The Daily Aztec: Do you have any advice for SDSU students pursuing acting?
Connolly: See as much theatre as you can. Be involved and find out what you are interested in. One of the things I struggled with is that I was always a bit of a shy person, and I didn't want to bother or trouble anyone. The older I have gotten, the more I realized that people generally are happy to talk and share with you. Do not be afraid to ask your teachers questions.
We are living in an amazing time where people can create their own work. Anybody can tape anything now. You can tape a web series on your phone and upload it. If you want to create something, you have the tools at your fingertips to do so.