Why Martinez is the right man to lead Aztec baseball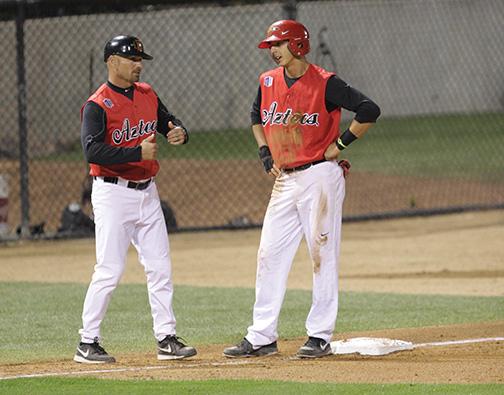 At the National Baseball Hall of Fame and Museum in Cooperstown, New York, there sits a pair of size 11 Nike baseball cleats with the number "3,000"written on the tongue of each shoe. Tony Gwynn wore those cleats on August 6, 1999, when he recorded his 3,000th career hit in the major leagues.
Gwynn passed away last month, leaving behind an extraordinary legacy as a 20-year member of the San Diego Padres and 12 seasons as the head coach of San Diego State's baseball team.
Now that SDSU baseball players, coaches, fans and even we at The Daily Aztec have had time to reflect and mourn, the page can be turned. Specifically for SDSU baseball, the torch has been passed to the next in line to continue Gwynn's successful tradition.
Aztec baseball fans shouldn't worry. As SDSU pitching coach John Pawlowski says, the program is in trustworthy hands and the standards will be held to the highest regard.
Coach Gwynn's successor is Mark Martinez, who spent the past nine seasons as the assistant coach for the Aztecs after 17 years as the hitting and infield coach for the University of New Mexico.
Pawlowski says Martinez is not only right for the job, but deserves it as well.
"He has a tremendous amount of experience and you like to see people rewarded for the hard work and effort they put in," Pawlowski said.
Along with Pawlowski, the players support him, senior third baseman Ty France said.
"He's had the respect of the team as a head coach for awhile, and not many guys can lead a team to an (NCAA) regional," he said.
Last March when coach Gwynn left the team due to his health, Martinez stepped in. The Aztecs were 21-14 after April 1, finishing with an overall record of 42-21, a Mountain West Tournament title and an appearance in an NCAA Regional Tournament which France mentioned.
In addition, six players from last year's team were taken in the 2014 MLB Draft—the most since seven were taken in 2007's draft.
As a result of Martinez's success during his "trial period"as head coach last season, SDSU Athletic Director Jim Sterk announced a two-year contract extension for Martinez last month.
For the next two seasons, Martinez will have a chance to continue the winning ways of old and build upon Gwynn's strong foundation.
But Martinez is a new guy. He's not Tony Gwynn, so there will be some changes as Pawlowski said. Despite that, Gwynn's influence on Martinez was easy to recognize, according to France.
"There's a lot of little things coach Martinez does that coach Gwynn did, little reminders here and there,"France said.
Nevertheless, it will be a tough road ahead for the Aztecs and they need a leader. The first thing Pawlowski and France mentioned when interviewed was Martinez's extraordinary leadership. But it is a different person calling the shots now.
"(The) biggest challenge is how we respond to new leadership, to doing things a little differently," Pawlowski said.
There's always a transition period when someone new leads the guys in the dugout, but the Aztecs' situation is unique because Martinez is in-house and the players know who he is and what he brings to the table.
"I feel like the transition will be smoother," Pawlowski said. "The players all understand and they're professional about it.
"The players know what to expect (with Martinez), what buttons to push, what ones not to push,"he said.
If SDSU baseball fans still aren't sold on Martinez taking over, consider this. In 2012, College Baseball Insider asked four Mountain West baseball head coaches which assistant coach they thought was most ready to become a head coach—Martinez was the majority answer.