Upgrade your shopping with apps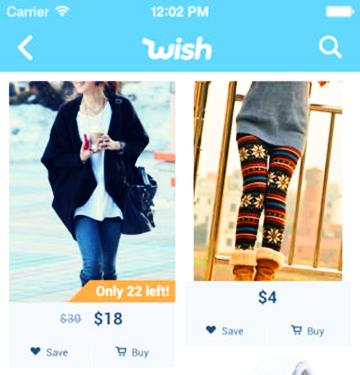 With summer comes a lot of free time and I don't know about you, but for me, that means a lot of time to shop. Summer also means I never want to leave my bed, so thankfully there are some helpful apps that let me do so, and they can allow you do the same.
Your wish is my command
Wish is a great app for finding inexpensive clothing and accessories. It lets you know what kind of deals and sales are going on. You can shop under categories or search for something specific. Based off your searches, it creates a recommended page that shows the types of clothing or accessories you've searched. You can save items to your wishlist or buy them on the spot. There's a "trending" page and a "most saves" page to view what's popular or you can search by a price range. Some items can be found multiple times with different prices so search well for the lowest price. The prices are very reasonable and it's easy to search for something you're looking for.
Thrift with Vinted
The app, Vinted, is not only for buying clothes but can also be used to sell, swap or giveaway your own clothes. Take a picture, add a description, select a category, specify the size and condition and upload. Another unique aspect to this app is a forum where users can post about news, fashion, beauty, food or anything. A disclaimer is that you're buying other people's clothes which means they may be used and may be in bad condition, so it's a little more risky. But if you like thrifting and want to sell your clothes, this app is perfect. 
Find anything on Wanelo
Wanelo, has a wide variety of items, from furniture and decor to novelty items and art. You can follow your favorite brands and other users. The feature "Magic" shows you an item and you swipe right to save it or left to skip. Similar to Pinterest, you can create collections and follow other's collections. You can even search store websites through the app and select products from the website to put into your collection. However, items are sold from the companies so there aren't discounted prices. The point of the app is basically just to see what other people or companies are posting, which gives you a variety of items to view.
Get the perfect fit with Fitbay
If you're worried about buying clothes online that are going to end up not fitting, don't stress any longer. Fitbay allows you to find clothes that fit your specific body type. It asks for your height, weight, body shape etc. It matches you with other people with similar body types and it shows you what clothes they've posted. Also, you can search for different categories of clothes or brands. When you select something, you can view how it will fit (where it's loose, regular or tight). However, you can't purchase clothes directly from this app. You will be directed to the item's website to buy it. Although that is a downside, the app is meant to direct you toward clothes that will fit you.
See what's Trendabl
The app, Trendabl, resembles Instagram. You can shop under categories or search the feed. Under the feed, you can scroll through pictures uploaded by companies and users. However, when on the feed, you can't always purchase that specific article of clothing. Sometimes, it just searches for other types of clothing with that color or pattern. You can search for users or hashtags, but again, you can't always purchase those exact items. Even though it can be disappointing at times when you want a certain item but can't buy it, it's a pretty cool feature being able to search patterns and designs.