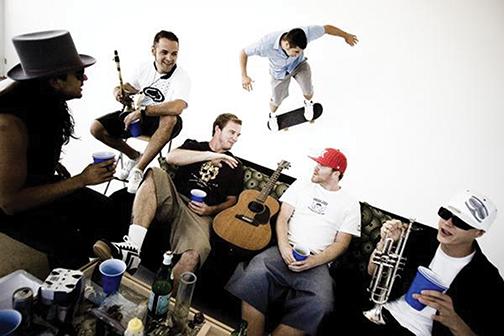 Local band returns to San Diego for July concert.  SDSU almnus and drummer gives advice to fellow Aztecs about staying in school and having fun while doing so.
Ocean Beach-based reggae-rock group Slightly Stoopid has slowly become an exceptional part of San Diego culture. Its unique fusion of rock, folk, ska, hip-hop, blues and reggae has given Stoopid one of the best reputations when putting on a show. What Miles Doughty and Kyle McDonald, co-founders of Slightly Stoopid, started 20 years ago has now branched out into multiple international tours and collaborations with other names in the music industry.
Aside from producing, touring and promoting Slightly Stoopid, the band has established its own label named Stoopid Records to guide other promising bands into the start of their careers. The Expendables and Outlaw Nation are two bands Stoopid Records has given a spotlight of their own.
"Over the last couple years we've released records by other bands that we're friends with," drummer Ryan "Rymo" Moran explained. "It's kind of a newer model of getting music out. Back in the day you tried to get your music on a major label. What we want to do is get music out for artists that tour and like to be on the road doing their thing."
Undeterred by constant touring, Slightly Stoopid has released a steady flow of music from the start. Its devotion to live music and its progressions through different genres has kept them constantly working on new projects.
"We've been working on a new album since the end of last year but we're looking to finish everything up when we get home from this summer tour." Moran said. "We're trying to get it out by early next year. I'm really excited about it because it's kind of an extension of what we've been doing: a little bit of reggae, a little bit of punk, a little bit of rock, ska, just the usual hip-hop vibe. I'm also really happy about all the material."
As an San Diego State alumni, Moran joined Slightly Stoopid in 2003, three years after graduating with a major in music in 2000.
"It's such a blessing to do what we do, we couldn't be more grateful," Moran said. "We're so fortunate to be in our position and we've also worked hard for it.  I mean playing at the Open Air Theatre at SDSU was like a dream come true; when I was going to school at State I saw a bunch of bands play there. Back then I was just wishing I could play a show like that—now we're doing that regularly and you know, it feels really good."
When asked about any advice for SDSU students Rymo responded, "Get your degree. I'm a proud alumni and (since graduating) I've had an amazing experience. So just keep it going, keep working, get your degree at the end of it all and have some fun in the process."
On July 26, which also happens to be Moran's birthday, Slightly Stoopid is coming back to San Diego for their eighth annual headlining show Summer Sessions 2014 with NOFX and Stephen Marley at Sleep Train Amphitheatre. This summer concert has become a tradition for the large family that Slightly Stoopid has accumulated after years of composing the sound of San Diego.