Ethnic cleansing starts where?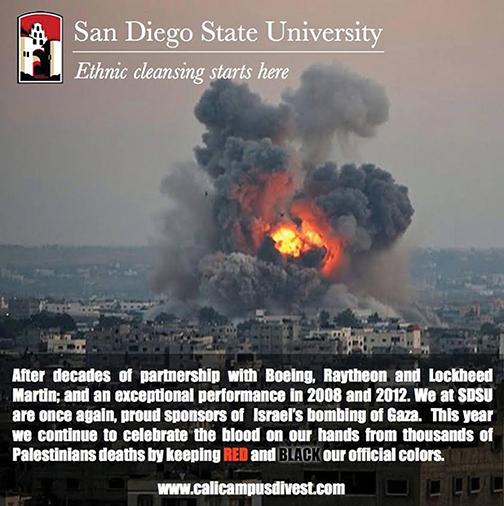 I'm having an identity crisis.
No, I'm not questioning my sexuality.
I'm questioning my position on our school's place in the controversial campus divestment movement and the Israeli-Palestinian conflict.
Specifically, I'm questioning the integrity of Students for Justice in Palestine at San Diego State.
The petition for divestment on our campus revealed several truths about SDSU. For starters, it proved how divisive our campus became regarding the issue, visibly dividing students into opposing sides: pro- or anti-divestment, pro- or anti-Israel. Perhaps more illuminating was how alarmingly vocal student activists became regarding the issue—specifically our school's branch of SJP.
What caused me to question my position on the matter was a picture posted on the SJP Facebook page that displays our iconic SDSU logo with the headline, "Ethnic cleansing starts here."
"
This kind of one-way communication is not a pathway toward dialogue or resolution, but rather supports a violent misrepresentation of Israel convenient to the specific narrative of SJP.
While I used to consider myself pro-divestment and, by default, anti-Israel, "Ethnic cleansing starts here" shook something in me as an Aztec.
Essentially, the picture serves its purpose: mocking our school's decision not to divest. However, by bringing up our school logo and by satirizing our school motto, "Leadership starts here," it directly attacks the school and its students, a move that is undeniably unprofessional.
Insisting that Israel's bombings of Gaza were acts of "ethnic cleansing" also raised flags about the accuracy of SJP's message.
The picture shocked me, for sure. However, it forced me to ask how this aggressive behavior in any way pushes forward a dialogue toward peace and resolution on our campus and abroad.
In short, it doesn't.
Instead, it further pushes toward a divided campus by instilling an attitude of "If you're not with us, you're against us," and painting this conflict as entirely black or white: either pro-Palestine or pro-Israel, with no middle ground. SJP has been adamant about spreading its message of justice for the Palestinians, and in the process has purposely demonized Israel and its citizens.
It's tragic to see war's blind hatred and demonization reflected on our campus and dividing us.
This kind of one-way communication is not a pathway toward dialogue or resolution, but rather supports a violent misrepresentation of Israel convenient to the specific narrative of SJP. It diminishes Israel and its people to one-dimensional caricatures, an act that is deeply offensive and incites anti-Semitic sentiments.
The ad's attached picture further proves this point. Its violent theme creates a potentially dangerous atmosphere on campus that is not particularly welcoming to guests and students, especially for those who call Israel their home.
Political science sophomore Sydney Abel expressed her discomfort with the anti-Israel sentiment on campus.
"SJP make me feel uncomfortable. As a student on the SDSU campus, the hostile way SJP promotes its position targets who I am as a person," she said. "SJP looks to point out the Jewish community on campus and targets Jewish students, saying that their homeland is illegitimate. As a person who has recently found their spirituality, Israel is more than a country. It is a place that I can call home even if I am thousands of miles away."
Her discomfort is justified. FBI statistics show that within the past 10 years, crimes against Jews account for an overwhelming 70 percent of hate crimes in the U.S. Additionally, the anti-Defamation League had found that between 2011 and 2012, the rate of anti-Semitic incidents on college campuses has tripled.
While the divestment movement didn't explicitly express anti-Semitic ideas, it fostered an environment that could potentially isolate and harm Jewish students. If we opened up to dialogue on campus, this could be prevented, but it seems SJP is not open to the idea.
Sarah Katularu, president of Students in Support of Israel, said that she has tried to invite SJP to their events and she has been met only with rejection.
"We, as an organization, truly care about Palestinians and their suffering. We have tried to hold events to raise money for Palestinian children and they turned us down on our offer to work with them. It's just sad that two groups of students who care about a cause can't work together. We try to tell SJP and their supporters that there is such a thing as being both pro-Palestine and pro-Israel," Katularu said.
In a Letter to the Editor published in The Daily Aztec last semester, a former president of Students Supporting Israel, Nirit Revzin, wrote that she also pushed toward dialogue between organizations but was told "SJP officers do not socialize with sympathizers of a brutal apartheid state.'"
How does this ongoing, immature behavior get us anywhere?
I propose to SJP to start reconsidering their tactics regarding communication and social media as the new semester comes to help create a campus that encourages intellectual dialogue and peace between students of all backgrounds.
The Israeli-Palestinian conflict will probably not be resolved within our lifetime. While peace between opposing sides may be difficult to reach between Israelis and Palestinians, it can definitely be reached between our campus organizations, but only if everyone tries. The greatest hope for SDSU is for supporters of SJP to put their differences aside and listen.
Leadership starts here, Aztecs, and peace can to.
It's about time we proved it.