4.0 Deli set to close at the end of the month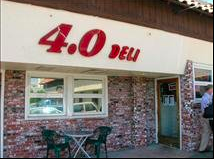 4.0 Deli, a staple of the San Diego State community, will permanently close its doors at the end of the month.
The information was released on the sandwich shop's Facebook page earlier today offering no reason for the sudden closure.
In an interview with The Daily Aztec, 4.0 Deli Manager Daniel McCluskey had more insight into the matter.
"The price of food is going up and with a lot of the things around campus gone during the summer, it's been really slow and we have employee wages on top of everything else," he said. "It's just been really hard to keep up with anything and make any money."
The restaurant first opened its doors on the corner of College Avenue and Montezuma Road in 2001. Although technically off-campus, 4.0's proximity to the residence halls and Aztec-themed decorations made it a popular spot for many students.
This news comes only two months after the closure of Las Casitas Mexican Grill & Seafood, another SDSU local eatery.
Dozens of students and other fans took to 4.0's Facebook page to express their remorse and question why this happened.
The owner currently has no plans to reopen 4.0 Deli in its current location, but may relocate sometime in the future, McCluskey said