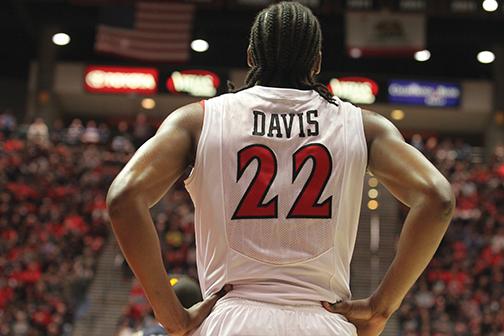 When we all graduate, we'll spend our allotted time on Cloud Nine. Cap-and-gown selfies, parties, family get-togethers, and an obligatory cry-session with Vitamin C's "Graduation (Friends Forever)" playing in the background.
Then, it's time for life to begin. Time to get employed. Hopefully, you'll have connections from your years at San Diego State that'll pay off during your job hunt. But no matter how many people are in your corner, you're still starting an arduous process that'll make finals seem like butterflies, rainbows and all that jazz.
It's the same for SDSU's two men's basketball stars looking to earn their keep in professional basketball. The Brooklyn Nets bought the rights to Xavier Thames from the Toronto Raptors after the Canadians picked him 59th overall in the 2014 NBA Draft. And Josh Davis signed with the summer league team of his hometown Charlotte Hornets as an undrafted free agent.
Their "job hunt" began in the 2014 NBA Summer League, where NBA teams draft picks and young prospects fight for a spot on an NBA roster.
Xavier Thames
Thames averaged 20.4 minutes per game (Summer League games are 40 minutes) throughout the Nets' five games in the Orlando Summer League, and he started two.
The hoop was not Thames' friend. The former Aztec scored just 3.6 points per game, shooting 26.9 percent from the field, 16.7 percent from long range and 75 percent from the charity stripe.
But surprisingly enough Thames defended very well, using his length, quick hands and defensive instincts to nab 2 steals per game, good for third in the Orlando Summer League. He also dished the ball out frequently, averaging 2.4 assists per game.
Thames' play also led to more Brooklyn points than the box score indicates. He scored zero points against the Miami Heat, but his six assists, one steal and one offensive rebound led to 17 Brooklyn points. Similar story against the Philadelphia 76ers, when Thames' four steals and two assists gave the Nets 13 points in addition to the two points he scored.
As of today, the Brooklyn Nets have not signed Thames. Brooklyn has, however, signed Thames' fellow drafted rookies—Oklahoma State University's Markel Brown and Baylor University's Cory Jefferson—to multi-year contracts.
Josh Davis
When you outperform your team's prized draft selection, you know you're doing something right.
In 25.6 minutes per game, Davis averaged 8.9 points, a Las Vegas Summer League fifth-best 10.1 rebounds (4.0 offensive) and 2.57 fouls while shooting 51.3 percent from the field and 66.7 percent from the free throw line.
In 27.1 minutes per game, Charlotte's No. 9 overall selection Noah Vonleh averaged 9.1 points, 10.0 rebounds (4.0 offensive) and 5.57 fouls while shooting 28.4 percent from the field and 67.7 percent from the free throw line.
No, Davis didn't blow Vonleh out of the water. But while the undrafted rookie from SDSU was on the court, the Hornets averaged 15.86 more points than their opponent. The Hornets scored just 9.29 more points when Vonleh was on the court.
And another surprising moment: Davis had three double-doubles over seven games, grabbing 16 rebounds twice and scoring 18 points along with 14 rebounds in his final NBA Summer League game. He also started three of Charlotte's seven games in the Las Vegas Summer League.
Davis is still an unsigned, unrestricted free agent.