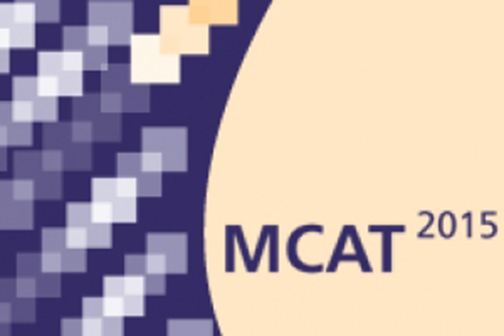 Pre-medical students will have a new test to study for when the new version of the Medical College Admission Test goes into effect next spring.
The MCAT2015 exam will now include a psychological, social and biological foundations of behavior section; a biological and biochemical foundations of living systems section; and a chemical and physical foundations of living systems section.
According to the Princeton Review this is one of the biggest additions to the exam since 1991.
The updated exam will also incorporate a critical analysis and reasoning skills section, and have more questions, increasing the test-taking time from 5 hours and 10 minutes to 7 hours and 30 minutes. The cost of the test has also increased $25 to $300.
According to the Association of American Medical College's website the new additions to the test are meant to further prepare pre-med students for the new advances and challenges in the healthcare field.
"Medical schools in general want students to have a general molecular understanding of disease," biochemistry associate professor Peter van der Geer said. "Future doctors should know how people get sick on a molecular level."
Students applying to medical school in fall 2016 will be the first group of examinees to take the updated exam. It is advised that students take psychology and sociology prerequisite courses to better prepare for the new exam.
Biology senior Melinda Lau didn't mind the test section changes but was more concerned with the longer test-taking requirement.
"I think I am OK with the changes because I have taken introductory courses to both psychology and sociology as well as biochem," Lau said. "It does, however, change things like taking an exam for 7 hours."
However, not all Aztecs share the same sentiments about the upcoming changes.
"To be honest, these new changes are stressing me out," cell and molecular biology senior Susana Najera said. "I keep hearing everyone saying that it will be more difficult since the new added sections will be testing us on our 'humanity' rather than our brains."
Aztecs planning to attend medical school in fall 2014 or 2015 don't have to worry about the new changes to the MCAT. However, applicants looking to avoid the new changes to the exam can take the MCAT2014 exam and submit their scores for fall 2016. Many medical schools accept MCAT scores that are three years old.
"I feel that I am getting better at it, after long hours of study, but you never know what might be on those questions," Najera said. "So there's no way to be fully prepared for the improvisation skills, but to submerge ourselves in a little bit of everything."
Students taking the MCAT2015 can register for prep courses and take advantage of practice tests provided by AAMC's website.