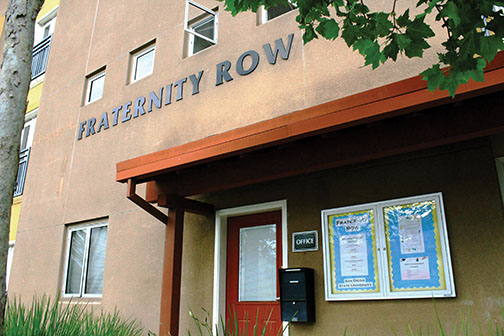 Welcome to San Diego State, freshmen! The start of your first-year as a college student means getting in the swing of things and Greek recruitment. Whether being part of a sorority or fraternity has been your life-long dream, or you didn't even know about Greek Life prior to seeing their booths at Explore SDSU, I'm here to help you decide if going Greek is the right choice for you—more importantly, how to go Greek.
Although often misunderstood, being part of a chapter isn't just about having fun and partying. Greek chapters allow you to connect with a group of people who become part of a new family. The friends you make are strong, lifelong connections you can't find elsewhere.
Sorority recruitment can be intimidating, but if you leave your worries at the door the process can be quite enjoyable. This five-day recruitment, taking place from Sept. 12 to Sept. 16,  allows for you to meet members of various chapters as they get to know you. The experience will help you narrow down your choices and find the chapter best fit for you.
Although you'll learn more about the process during the Pan-Hellenic meeting before recruitment, here are some tips from current members:
"Keep it classy and actually follow the guidelines they give you for what to wear each day," Gamma Phi Beta sophomore Alyssa Sleadd said. "Have your outfits reflect your own personal style and not what everyone else chooses. Make sure you feel comfortable in your own skin!"
"Expect really long and hot days," Delta Zeta sophomore Ally Meyerowitz said. "Expect to be crammed in a room with 100 girls who are just as nervous as you are."
"Dress wisely, but don't over-think it," Kappa Delta junior Shelby Snyder said. "Of course you want to look put-together, but you want a house to like you for you, not for what you wear. However, most girls will be wearing heels, lots of makeup and sundresses."
Fraternity recruitment has its differences. First of all, most won't call it recruitment, instead it's commonly referred to as "rush." You can choose which houses you go to, where you will meet with the fraternities—so go to as many possible! This year, fraternity recruitment begins September 8 and goes until the 18th.
You'll learn more about rush at the Interfraternity Council meeting, but here are some recruitment-success tips from fellow members:
"Be yourself," Phi Kappa Psi senior Derrick Bizicki said. "Don't act like someone that you aren't. Get to know as many people from all the organizations as you can because it is about joining for the people, not the letters."
"Being in a fraternity may sound like a lot of fun with not a lot of responsibilities, but you'd be surprised by the time commitment and serious work you're required to put into it, especially your first year," Theta Chi sophomore Wes Sisson said.
"You get out ten-fold what you put in to your fraternity," Phi Kappa Psi junior Charlie Ucciferri said. "During rush, it's important to put forth your best qualities about yourself."
Becoming a part of the Greek system shouldn't be scary or intimidating. Although recruitment can be overwhelming and nerve-wrecking, just remember these tips and you will end up in the right house for you.