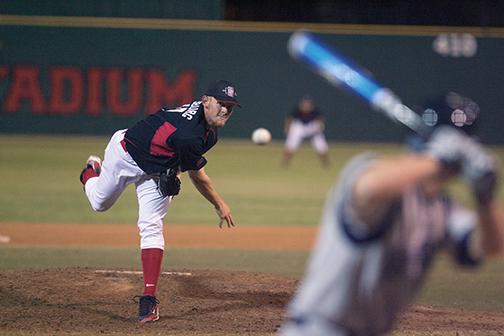 Today the San Diego State athletics department announced its five-member 2014 Hall of Fame class. This year's inductees represent four Aztec sports, with two from SDSU's football program.
Kirk Morrison (2001-04, Football)
The Aztecs didn't win a whole lot between 2001 and 2004, but there was still one aspect of SDSU football that no opponent wanted to confront—linebacker Kirk Morrison. Ten years after leaving SDSU, Morrison still holds program records for unassisted tackles (241) and fumble recoveries (10).  His defensive instincts and ability to always find his way to the football earned him two All-American selections and two Mountain West Defensive Player of the Year selections. Morrison was drafted 78th overall by the Oakland Raiders in 2004. He started for the Raiders and led the team in tackles all five year he played in the black and silver.
Stephen Strasburg (2007-09, Baseball)
This was a no-brainer. He's the career ERA record-holder, with a 1.59 ERA. He's the single game, season and career strikeout record-holder (23, 195 and 375, respectively).  He's the 2009 College Baseball Foundation National Pitcher of the Year. He's a U.S. Olympic bronze-medal winner as a junior in 2008. He was the first overall selection by the Washington Nationals in the 2009 MLB Draft. There was really never any doubt Strasburg would be a first-ballot Hall of Famer, and here he is.
Shayla Balentine (2002-05, Track and Field)
Balentine absolutely owned both indoor and outdoor pole vaulting during her SDSU career. She won the MWC Championship four times, twice for indoor and twice for outdoor. She was even the national NCAA pole vault runner-up in 2005 en route to earning NCAA All-American honors. This year, she'll return to the field as a Hall of Famer.
Kyle Whittemore (1984-88, Men's Soccer)
Even all these years later, Whittemore still holds the SDSU single-season and career records for goals and points scored (21 goals and 50 points in a season; 68 goals and 160 points in a career). Whittemore was named to the second-team All-America in 1987, the same year he led the Aztecs to become to national runner-up team. Whittemore also earned Far West All-America honors four times in his career and was a Hermann Trophy finalist in 1988.
Pete Inge (1976-79, Football)
Inge was Chad Young before being Chad Young was cool. A walk-on to the football team in 1976, Inge earned two second-team All-American honors and helped lead the Aztecs to their combined 20-2 record in his freshman and sophomore seasons. He was also twice awarded the Byron Chase Memorial Trophy, awarded to the team's top offensive player.
The Hall of Famers recognized at halftime of SDSU's home game against Air Force on Friday, Nov. 21.