SDSU No. 18 on Forbes' most entrepreneurial, best value college lists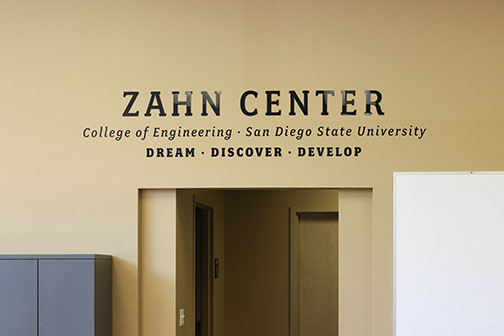 Forbes recently released its rankings of the best colleges in the U.S., positioning San Diego State at No. 18 in its Most Entrepreneurial University and Best Value College lists.
The Most Entrepreneurial Universities list was determined by the number of students and alumni who are founders and business owners, compared to the total number of students in both graduate and undergraduate programs. SDSU ranked 18 out of 50 universities, beating schools such as University of Southern California, Harvard University and University of San Diego, ranked No. 22, No. 34 and No. 47, respectively.
Nolan Rakow, former president of the Entrepreneur Society and a fellow of the Lavin Entrepreneur Program said he sees interest in entrepreneurship growing.
"With this level of uncertainty in the job market, as well as the enormous amount of resources available today, more students than ever are viewing entrepreneurship as a logical step, rather than a risky leap," Rakow said. "Last semester, San Diego was named as the number one city in the U.S. to start a new business, and that attitude is reflected right here on campus."
At the spring kickoff event for the Entrepreneurship Society, Rakow said about 120 people attended. He expects membership will continue to grow, given that SDSU is increasing focus on programs such as the Zahn Innovation Center and Lavin Entrepreneurship Center.
The Best Value College list looked at both the in-state and out-of-state tuition at a number of colleges in the U.S. With a 2013-14 in-state tuition of $6,766 and out-of-state tuition of $17,926, SDSU is considerably more affordable than many universities of a similar caliber.
Art sophomore Ricky Lopez said that although the cost of college can be high, SDSU finds ways to help students afford it.
"Fortunately, there are lots of programs students can go through, granted they qualify, to help lower the cost of tuition and expenses," Lopez said. "I used one called CalVets, which covered my tuition completely. I definitely think I'm getting my money's worth. Along with the courses, the extracurriculars are worth the money."
New this year, Forbes launched #MyTopCollege, a social media campaign on Instagram and Twitter that allowed students to share pictures of what makes them proud of their school. SDSU ranked second on the list, with students tweeting pictures of stunning campus views, among other aspects. Students also shared with words why SDSU was their top college, with some remarking on the fantastic education and programs, while others were grateful for the people they had met at State.
@SDSU is #MyTopCollege because studying at sunset in December looks like this @Forbes pic.twitter.com/wf7a48eqgH

— Johnny Bayseno (@JBayseno) July 17, 2014
@SDSU is #MyTopCollege because of this place right here pic.twitter.com/0aIt6HnATT

— Dakarai Allen (@illest_Legend) July 28, 2014
@SDSU is #MyTopCollege because of all the academic, athletic, & social opportunities just fifteen minutes from the beach & downtown @Forbes

— Kate Anderson (@littlekatelyn) July 25, 2014
SDSU is #MyTopCollege because our graduates go on to do big things http://t.co/iHL4WYRVzO @Forbes

— San Diego State (@SDSU) July 10, 2014
"We retweeted almost all the SDSU #MyTopCollege tweets we saw come through," SDSU Director of Social Media Giselle Domdom said. "It was really about sharing as much Aztec pride as possible. It was fun to see the different pictures or read the different reasons people chose SDSU for #MyTopCollege."
Domdom believes social media plays an important part of connecting a college campus.
"Social media is another communication tool colleges can use to interact with students, faculty, staff, alumni and the greater community," Domdom said. "We see social media as a way to connect with these different groups, share information and, most importantly, listen."