Survival Guide: Get involved with intramural sports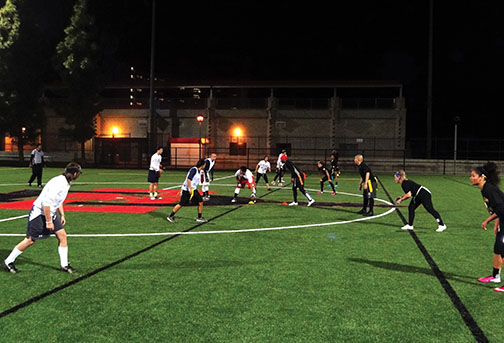 So, you grew up playing football for most of your life as one of the better high school inside linebackers back in your hometown. You figured you'd take your talents to the next level, only to have virtually every Division I recruiter tell you that they had no room for a 5-foot-7-inch dude weighing in at 175 lbs. who's built like a tank.
Much to your dismay, even Division II schools wouldn't give you a chance.
Let these words be the cork that stops the angry, frustrated man tears from flowing any longer: the fun doesn't have to stop here.
Welcome to the world of intramural sports.
Sure, you'll have to swap your helmet for a headband and find a way to alter your bone-crushing tackles into lightning-quick flag swipes to stay on top of your game, but at least you'll still be able to get your competitive fill.
San Diego State welcomes all members registered with the Aztec Recreation Center to participate in sports leagues that vary from indoor soccer, softball, bowling, flag football and tennis during the fall semester. Rules for each individual sport can be found online on the Aztec Recreation Intramural Sports homepage.
Even if you weren't one of the premier prep linebackers with somewhat delusional hopes of spending your Saturdays forcing fumbles at Qualcomm Stadium, you should still be OK—all skill levels are welcome.
The universal welcome doesn't mean you'll be stuck playing against somebody who takes recreational sports too seriously, though—each sport is divided into seven different leagues: the A League, B League, Open League, Fraternity League, Women's League, Sorority League and Co-Rec League.
The A League is for the highly competitive teams looking to win. The B League is for the moderately competitive teams looking to have fun. The Open League is for just about anybody. Fraternity, Women's and Sorority Leagues are exclusive to those who fit the mold. Co-Rec Leagues allow for both men and women to compete alongside each other, so long as both teams have an equal amount of each gender.
Competitors can either join their desired leagues as part of a team or as a free agents. Those already teamed up must elect a team captain who must attend a mandatory meeting on Sept. 24. Free agents have a mandatory meeting of their own scheduled on Sept. 22.
Here comes the slightly bad news—it isn't free. As previously mentioned, all competitors—whether SDSU students, faculty members, staff or the extended campus community—must be registered members in order to participate. Monthly prices for ARC memberships vary between $19, $29 and $39, depending on your relationship, or lack thereof, with the university.
Intramural sports even has a place for those not looking to compete—it gives Aztecs the opportunity to audition as a paid official. Aztec referee pay starts at $9.46 per hour and employees work anywhere from six to 12 hours per week.
Registration for intramural sports opens on Aug. 25 and closes on Sept. 19 and competition begins on Sept. 27.