France won't surrender to pressure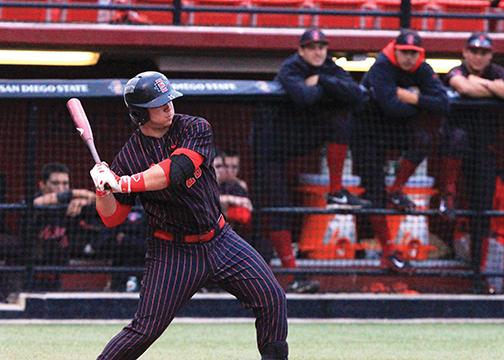 Grab your lunch pale, punch the clock and go to work.
That's how San Diego State baseball's head coach Mark Martinez describes the work ethic of his All-American third baseman, junior Ty France.
"Anyone who's worth their salt always wants more, and that's Ty for you," Martinez said.
It's hard to ask much more out of a guy who led the team in batting average, on-base percentage, doubles and hits last season.
Along with that, France earned the moniker "Ty Fresno" as a freshman for his MVP performance in the Mountain West Tournament where he logged a record-breaking 16 hits.
According to Martinez, though, the sky is the limit.
"He's dangerous with the bat, and we like that," Martinez said. "Anytime we're going to walk onto the field, the opponent is going to have his name circled."
Teams should have his name circled because France has done nothing but rake during his time at SDSU.
Heading into this year, France has earned second-team Freshman All American honors from Baseball America, third-team All-American honors by Baseball America for his sophomore season and is a first-team preseason All-American by the National Collegiate Baseball Writers Association.
You won't catch France patting himself on the back anytime soon, though.
"I worked really hard last season, so I was kind of hoping something like that would happen," France said. "But to have a 42-win season, and have me be a part of it, that was really cool."
As France mentioned, the team won 42 games last season and were aided by guys like Tim Zier, Brad Haynal and Michael Cederoth, who have all moved on to professional careers in the MLB.
This season, though, France is the go-to guy, and that is something he is comfortable with.
"I trust the process, it's what we work for all year to get to this point," France said. "I just have to let my talents take over and see where we go from there."
In fact, Martinez thinks that's a spot France feels most confident in.
"He always seems to thrive in that kind of role, you see the kind of numbers he put up in the (MW) tournament," Martinez said.
Seemingly the only thing in the way for another stellar season from France will be his health.
France dealt with a break in his arm last season, something that Martinez said was a well-kept secret.
"That will be my biggest struggle this year, staying healthy and keeping my arm in shape," France said.
However, France noted that his rehab was going great and that he is fully cleared to play.
The Aztecs will be missing a lot of familiar faces from last season, but Martinez stressed the confidence he has in his players that are returning to fill those shoes.
A player like France will make that transition even easier, and is someone that Martinez will not have to lose any sleep over when he pencils him into the heart of the Aztecs order this season.
"He's one of the premiere players in our conference, if not the country," Martinez said. "He puts up numbers, works hard and is a good student, what more could you ask for?"