Survival Guide: Aztec Nights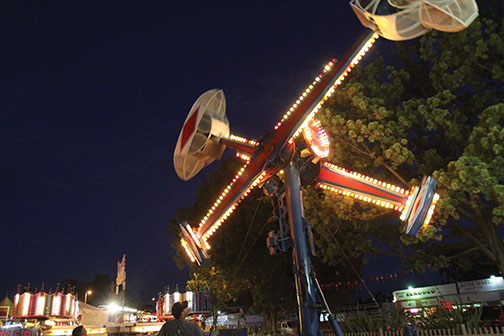 by Nick Knott, Entertainment Editor
August 18, 2014
Every year, San Diego State puts on its Aztec Nights event series for the latest batch of incoming freshman. These events provides a prime opportunity for the new collegiate blood to get out of their dorm rooms, mingle and make new friendships.
Aztec Nights occurs during the beginning of each semester. This year, much like past years, promises more fun parties and good times. Here at The Daily Aztec we've compiled a list of "can't miss" events for the upcoming Aztec Nights, so don't stay cooped up in your dorm rooms, young freshman—get out and have some fun.
Red and Black Welcome Dance
When: Saturday, Aug. 23, 10 p.m. – 2 a.m.
Where: Campanile Walkway
Rep your Aztec colors at this late night dance right in the heart of campus. There will also be free food. The farther you get in college, the more you realize the importance of free food, so fill up your gut.
Union Fest
When: Thursday Aug. 28, 9 p.m. – 1 a.m.
Where: Conrad Prebys Student Union
Help SDSU break in its latest addition with dancing, live music, karaoke and much more.
Campus Carnival
When: Friday Aug. 29, 10 p.m. – 2 a.m.
Where: Campanile Walkway
Once again Aztec Nights takes over Campanile Walkway and fills it with rides, carnival games and food.
Treat Yourself
When: Saturday Aug. 30, 10 p.m. – 2 a.m.
Where: Montezuma Hall
This event is all about personal spoils. Indulge in massages, photo booths, gambling tables, airbrush tattoos and video games.
Screen on the Green
When: Sunday Aug 31, 8 p.m. – 12:30 a.m. and Friday Sept 19, 10 p.m. – 2 a.m.
Where: Athletics Field
Bust out your lawn chairs and blankets while you catch a late-night flick projected on a giant screen. There will also be snacks, which will be free.
Lights Out
When: Friday Sept 5
Where: ENS 700 Field
Come decked out in your brightest neon with glowsticks in hand to the lawn next to Campanile Walkway for a night of lights and music.
Late Night Beach Night
When: Saturday Sept 6, 10 p.m. – 2 a.m.
Where: Hepner Quad
Nothing says California like the beach, so Aztec Nights is brining the beach to SDSU. Come stick your toes in the sand, hang in a cabana and jive with music by DJ Brinka.
Flashback Friday
When: Friday Sept 12, 10 p.m. – 2 a.m.
Where: Conrad Prebys Aztec Student Union
Take a step back in time as two DJs play music from decades before. Make sure you bring some quarters so you can take a turn at Ms. Pac-man and other old-school arcade games as well.
Comedy Night
When: Saturday Sept 20, 10 p.m. – 2 a.m.
Where: Montezuma Hall
Watch talented, nationally recognized comedians crack jokes all night until your face hurts from smiling and laughing.