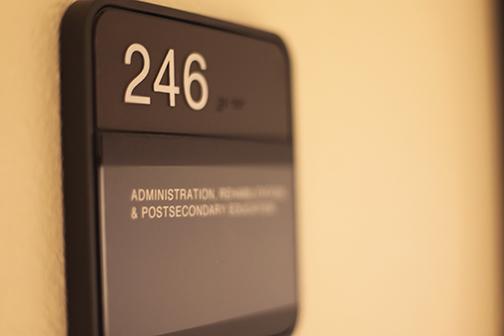 Beginning in the fall semester, San Diego State will offer a new course to better prepare students with disabilities for employment after college.
Adult and Vocational Education in Contemporary Society is based on a course developed at University of California, Berkeley, where it was first taught in the fall of 2011.
The 3-unit, graded course, known as ARP 568, will be available to undergraduate and graduate students and will teach students how to be successful when seeking employment. Participants will learn about disability and employment issues and be mentored to become self-advocates.
Chair of the Department of Administration, Rehabilitation and Postsecondary Education Caren Sax believes one of the biggest challenges students with disabilities face is a lack of experience. She said research shows many students with disabilities often enter college with a lower level of work experience than other peers.
"When it comes time to look for a job, they don't have the experience to build on," Sax said.
Although Career Services and Student Disability Services exist on campus, the new course will build on these resources.
"This course was designed to try and put all those pieces together, and to really guide students through it," Sax said. "But more than that, to get the connected with the business world."
The Business Leadership Network will help provide career mentoring, build connections with businesses and develop internship opportunities. Qualcomm is the lead company of the San Diego chapter of BLN.
In addition, Policy Works will collaborate by allowing students to work with a placement specialist and peer mentors.
Shawn Fiala, an SDSU public administration alumnus Class of 2011 and rehabilitation counseling doctorate student, has worked for Policy Works for three years and will be student a mentor. He will provide information about the effects of earnings on Social Security benefits and work incentives.
"Transitioning off of Social Security benefits and the fears associated with how employment may affect those benefits is also an important consideration this course and program will hope to allay," Fiala said.
Fiala will enroll in ARP 568 as well.
"By doing so, not only will I be learning valuable information, which would be applicable to my future career as a rehabilitation counselor, but will help me become familiar with the course so I can best be of help to students taking the course in future semesters," Fiala said.
Sax said keeping expectations high for the students enrolled in the course will be important.
"If you've been turned down a lot, you're expectations are going to lower," Sax said. "So I think we need to keep the expectations high."
Sax said students will take a pre-course and post-course survey to track progress.
Funding for the course comes from the Kessler Foundation's two-year, $400,000 Signature Employment Grant.
This article has been changed. It previously stated that the new course was credit/no credit and funded by a $4,000 grant. The Daily Aztec apologizes for any confusion this may have caused.