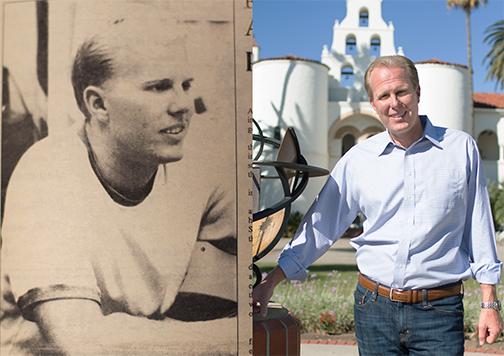 Kevin Faulconer
San Diego Mayor Kevin Faulconer graduated from San Diego State in 1990. During his time at SDSU, he served as president of Associated Students and was a member of Kappa Sigma, a men's social fraternity.
Faulconer first ran for San Diego City Council in 2002 but lost to Michael Zucchet. He then ran again and won the seat in a 2006 special election. Faulconer's success with special elections continued when he won the 2014 mayoral election in the wake of Bob Filner's sexual harassment scandal. On March 3, Faulconer was sworn in as the mayor of San Diego.
In an interview with The Daily Aztec last November, Faulconer said he valued his time at SDSU and is proud of the work he did, especially as A.S. president.
"I'm so proud of this university and what it meant to me and my life and the friendships and the connections that I've made here on campus I keep with me to this day," he said. "I received a first class education here."
Ralph Rubio
One San Diego State alumnus whom many Aztec's taste buds are familiar with is Rubio's Fresh Mexican Grill Co-Founder Ralph Rubio.
After graduating from SDSU in 1978 with a bachelor's degree in liberal studies, Rubio decided to open the first Rubio's in 1983, introducing the fish taco to San Diegans in the Mission Bay community.
This Fresh Mex eatery came from humble beginnings and grew into a restaurant chain that now boasts more than 190 west coast locations and has sold more than 170 million fish tacos, according to Rubio's website.
"Failure was not an option," Rubio told The Daily Aztec in 2012. "If I turned 30 and this thing flopped I would have been a failure."
Through his success, Rubio has been able to contribute to his alma mater and embody what it truly means to be an Aztec for Life.
He finds time to aid students and the university through his contributions from interviews for The Daily Aztec, being one of the many successful SDSU alumni featured in the "I Believe" 30-second spot commercial filmed in September 2011 and serving as chairman for the 2013 SDSU Homecoming week.
In 2000, Rubio was awarded with the Monty, which is awarded to outstanding and successful alumni by the SDSU Alumni Association for his contributions to the university and the community.
In 2010 Rubio's became the first restaurant to introduce Bottle Box salad bowl containers made from 100 percent recycled bottles.
"The company is a real eco-friendly place to work for as it tries to also please the university, guests and serve quality food," Rubio's SDSU Manager Omar Salgado said.
The Rubio's website homepage also includes a tab called 'Social Responsibility' where customers can see the environmentally conscious efforts the restaurant is trying to make such as recycling and maintaining a green corporate office.
"It's not as important to study a specific discipline," Rubio told The Daily Aztec in 2012. "Just learn for the sake of learning and go where your interests take you and follow your heart and your brain that way."